A KEYNOTE ADDRESS DELIVERED BY BARR. (MRS.) MARY IYASERE, HON. COMMISSIONER FOR COMMERCE AND INDUSTRY ON THE OCCASION OF THE UNVEILING OF THE BOOK "HUNGER REPUBLIC '' DURING A PUBLIC LECTURE WITH THE THEME "THE SMART WAY FORWARD FOR NIGERIAN YOUTHS'' AT ORCHID HOTELS, 29TH MARCH, 2017.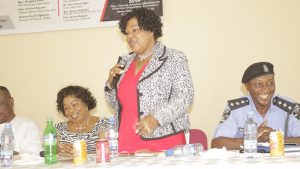 It gives me great pleasure to be part of this ceremony. Indeed, the significance of the subject matter makes is sufficiently fulfilling to simply be a listener or an observer. The honour therefore is mine not only for the invitation but also to have been asked to deliver the keynote address.
Firstly, I must state clearly that the book we are unveiling describes our situation as a country and people today. It tells the story of Wright, a rebellious teen, raised in lavishness in a developed country and destined to control a billionaire empire. He was sent to school on an island in a third world country where he encountered hunger and hardship. Instead of breaking down, the spoilt teenager grew into a butterfly of radiance and prominence by helping to rebuild this hopeless island to the admiration of his parents. This he did by investing in agro-business and partnering with Government.
The theme of this public lecture brings joy to me because it does not try to reiterate the problem but seeks to suggest the way forward. I am also glad that it identifies the segment of society-the Youth, whose responsibility the future of our society falls on. Looking at the title of the book, what immediately comes to mind is a state of having no food to eat. However it could also connote a state of strong desire for something other than food, such as peace, good governance, good followership, jobs, etc. I would however pitch my tent with the former: "a state of having no food to eat". Why? Just like Maslow postulated in his theory of Hierarchy of Needs, I believe that the primordial hunger (need) a person or a society needs to satisfy is his or society's physiological needs, of which food is primary. Only and when this need is met will a society truly begin to progress effectively. Thus a satisfaction of our physiological need would encapsulate the fulfillment of all other needs whether primary or secondary. A well fed society is a healthy one and a healthy society is a wealthy one. A wealthy society is the desire of all peoples.
The impact that a lack of food has on a society can be very devastating, thus we must ask ourselves of the smart and sustainable way forward. In my view the smart way forward is to engage our youths in food production and processing. This is also the view of His Excellency, the Executive Governor of Delta State, Senator (Dr) Ifeanyi Arthur Okowa under the SMART Agenda of the present administration. This has led to the implementation of various programmes like the Youth Agricultural Entrepreneurship Programme (YAGEP), a programme that seeks to improve on the availability of food by engaging the youths in all forms of agro production and processing. Though its primary aim is to ensure food security in our State it also has engage the youths in meaningful ventures thus taking them off the labour market.
Ladies and Gentlemen, I hope that I have set the tone for effective deliberations on the SMART WAY FORWARD for tackling our challenges as a society. It is my prayer that at the end of these discussions we should not only note the solutions to our challenges but most importantly take practical steps in implementing the solutions noted so as to effectively address the theme of this public lecture.
I wish us all happy and successful deliberations, thank you.