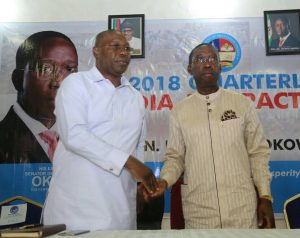 To control effects of flood water on Deltans, Governor Ifeanyi Okowa has said the state government will spend more than N30 billion for construction of storm drains.
According to the Governor, the amount would take care of eight storm drainage channels including their discharge points.
The Governor made the disclosure in Asaba during the first quarterly interactive session with Journalists for the year, 2018.
"We have taken the bull by the horn as regards the flood control in the state; we wanted to be sure that we were on the right path, we did not just want to start constructing drains all over again without bringing solutions to the flood issues in Asaba so our consultants worked with the Nigerian Society of Engineers to provided us with eight options of drains," he said.
"Storm drainages that we had to undertake as a state which was put at a total cost of a little above N30 Billion and out of the eight strategic network of Drains we chose to work with three as they were very critical and the total cost of the three is about N11 Billion."
He continued, "the first one we started with was the one that is going to be within the area of DLA Road through Jesus Saves Road; the Agric Road area and that is the construction that is ongoing straight from that area through the Nnebisi road to the Amilimocha river and I think that the project has gone very far. We have been promised that the project will be delivered by the end of May this year and we are happy to announce that from my inspections, the project is going on very well and I am sure that a lot of us would have had the opportunity to see this construction and for those of us who may not have, I must appeal that for us to be able to do proper reporting, there is a need for us to visit projects to see what is on going."
"There are two other projects, one of them is the drainage project that will take us through Ambassador Ralph Uwechie Road to discharge to the Anwai stream and that project is already ongoing; the project was awarded about a month ago and work is ongoing and it will take 12 months to complete, so, we may not be getting all the relief within the Okpanam areas all through the rainy season but, it is our hope that before the next rainy season they would have completed the project so hopefully the project will be delivered by God's grace by the end of February 2019 and once it is completed it is going to drain the larger part of Okpanam while part of the water coming from Okpanam will be drained through the project that has a discharge point at the Iyi-Abi stream that is across the Asaba/Onitsha expressway and I am happy to announce that the company working on the Okpanam project has stepped up their pace of work; the third of the storm drainage projects is the one that is going to drain DBS area and the adjoining areas around the DBS and that project is a 12 month project and I hope that they all will be delivered on time because the impact of the projects will only be fully felt in the year 2019 and it is my hope that we can reasonably go far enough before the rains sets in this year."