Dickson Commissions Projects In Delta State
… As Okowa Gets Accolades For Project Execution
… Ibori Supports Restructuring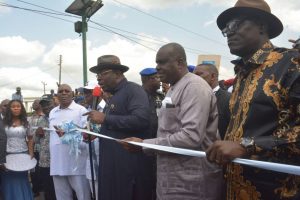 CHAIRMAN of South-South Governors' Forum, Chief Seriake Dickson has commissioned multi-billion naira projects in Delta State, describing Governor Ifeanyi Okowa as prudent manager of resources.
Chief Dickson who is the governor of Bayelsa State, on Tuesday commissioned road projects at Jesse, Ethiope West local government area and the multi-billion naira Sapele Market in Sapele local government area of the state. The market has 1, 532 shops, developed shoreline and four jetties.
According to Chief Dickson, "this is an international market, we are overwhelmed with the quality of projects you have executed, we have seen the wonderful roads you (Governor Okowa) have constructed."
"These are special projects that will touch the lives of the people, improve on their economy and the economy of Delta State," Chief Dickson said.
While paying glowing tribute to Governor Okowa's administration, he asserted, "Governor Okowa came at a time of recession, we have heard about what he is doing in Delta State and today, we are witnesses, I wonder what Deltans will see in his second term."
Governor Okowa at the ceremonies, thanked God for making the commissioning e exercise a reality, disclosing that the projects were initiated by Chief Ibori's administration.
"Every good project that was started by previous administration must be completed, we will not have uncompleted projects in the state," the Governor assured.
Chief Ibori in his speech, commended the efforts of Governor Okowa's administration to transform Delta State and urged the Governors of the South South states to stick to their demand for the restructuring of the country.
"Carry on with the battle for the restructuring of the country to the finishing line," Chief Ibori said.
It is worthy to state that Governors of the region few weeks ago at a meeting in Port Harcourt, Rivers State stated, "everyone is aware of the ongoing clamour for devolution and a return to essential founding principle of this great country and we, in our meeting resolved as we have been speaking over sometime that we associate fully with the clamour for restructuring, true federalism and devolution of powers that are so concentrated at the centre to the federating units. We have agreed to support ongoing moves in that direction by working with like-minded Nigerians who mean well for the country so that we can all have a stable and prosperous and peaceful nation. While we are not against the withdrawal of 1 billion dollars from the Excess Crude Account by the Federal Government for national security, we believe that such should be done by adhering strictly to constitutional provisions of paying 13 per cent derivation."
The Orodje of Okpe Kingdom, His Majesty, Orhue 1, Major Gen. Felix Mujakperuo (retd), and others who spoke at the occasion, thanked Governor Okowa for executing people-oriented projects.