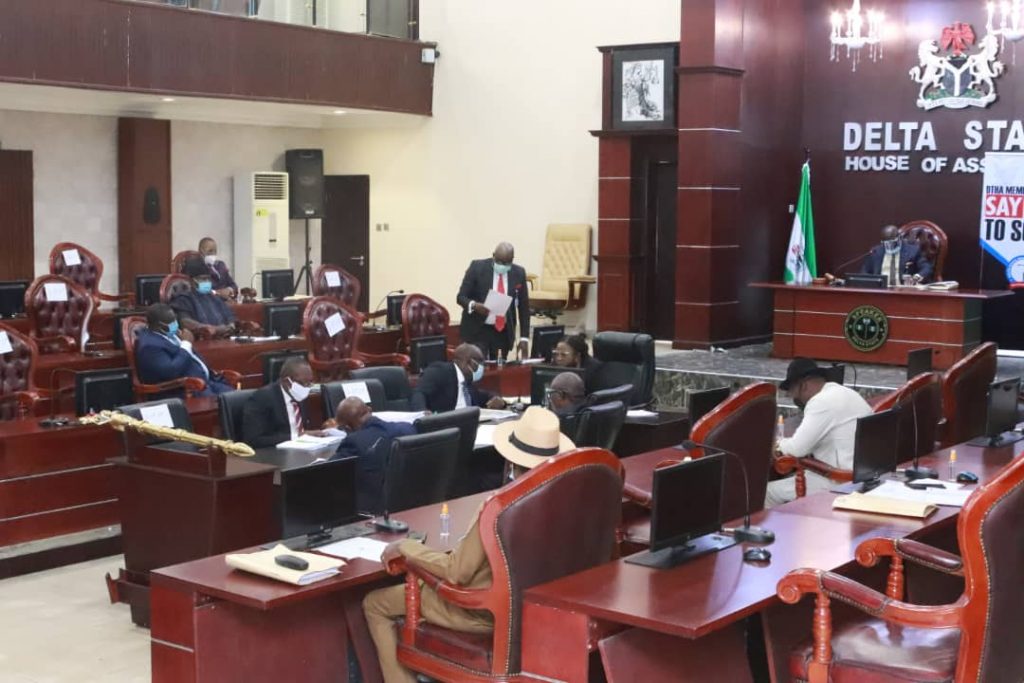 A bill for a law to eliminate violence in private and public life, prohibit all forms of violence against persons and to provide maximum protection and effective remedies for victims and punishment of offenders and other matters connected therewith has passed second reading on the floor of the Delta State House of Assembly.
The bill was read the second time after a rigorous debates on its merits at plenary presided over by the Speaker, Rt Hon Sheriff Oborevwori.
The thirty four paged bill geared towards the domestication of Violence Against Persons Prohibition Act, was forwarded to the house last Tuesday by Governor Ifeanyi Okowa for necessary legislative actions.
The Majority Leader, Hon Tim Owhefere, Isoko North, who led debates on the merits of the bill, said part one of the proposed law centered on all issues about domestic violence, including what constitute rape, punishment, compensation and register for sex offenders, indecent assault, inflicting physical injury on another, coercion, incest, indecent exposure, harmful traditional practices and forceful eviction from home.
Others according to the Majority Leader, include political violence, attack with harmful substance, stalking, emotional, verbal or psychological abuse, willful false statements, economic abuse, abandonment of children, spouse and other dependent without means of sustenance, intimidation, spousal battery, depriving a person of liberty, forced isolation or separation from family and friends, all forms of violence by officials of government agencies, damage to property with intent to cause distress as well as willfully placing a person in fear of injury and frustrating investigation.
Hon Owhefere explained that the proposed law is gender friendly as the offense and punishment are the same for both men and women, pointing out that sometimes women also rape men.
The Lawmaker disclosed that punishment for offenders, ranges from twelve years to life imprisonment or options of fine amounting to five hundred thousand naira or both.
In their contributions, the Chief Whip, Pat Ajuduah, Deputy Speaker, Rt Hon Christopher Ochor Ochor, Deputy Chief Whip, Hon Solomon Ighrakpata, and Deputy Majority Leader, Hon Oboro Preyor said the Bill was comprehensive as it recommended stiffer punishments for all forms of domestic violence, including persons accessory to the crime.
The Lawmakers stated that the proposed law would change the face of domestic life style in the state.
They emphasized that domestic violence and the need to check it has become a global concern and commended the state governor, Senator Dr Ifeanyi Okowa for the initiative to domesticate the Violence Against Persons Prohibition Act in the state.
The Bill was read the second time following a motion to that effect by the Majority Leader, Hon Tim Owhefere and adopted.
The Speaker, Rt Hon Sheriff Oborevwori thereafter referred the bill to the House Committee on Rules, Business and Judiciary matters for further legislative actions.