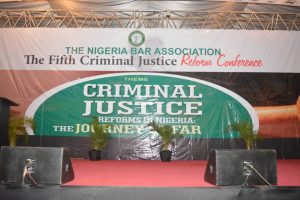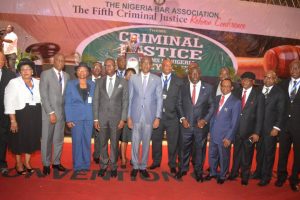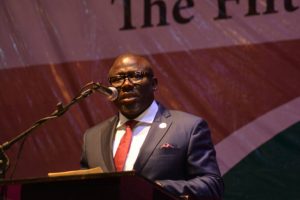 Why Nigeria's Criminal Justice System Is Ineffective ——- Oborevwori
The Speaker, Delta State House of Assembly, Rt. Hon. Sheriff Oborevwori on Wednesday, identified overcrowding in prisons and other detention centers, unnecessary delay in criminal trials, slow implementation of the provisions of the Administration of Criminal Justice Act by Criminal Justice Agencies such as the Police and Prison Services, among others, as some of the reasons why Nigeria's Criminal Justice System is ineffective.
Rt. Hon. Oborevwori in his goodwill message at the opening of the 5th Criminal Justice Reform Conference organised by the NBA Criminal Justice Reform Committee on the theme "Criminal Justice Reforms IN Nigeria -The Journey So Far'' held at the Event Center, Asaba, the Delta State, capital, added that other reasons behind the ineffectiveness of Nigeria Criminal Justice System include "lack of access to good counsel by the poor, continue practice of holding charge, media trials by security agencies, few properly trained prosecutors, and inadequate funding of Criminal Justice agencies."
The Speaker said that in spite of governments efforts in making policies and legislation to enhance the effective operations of the Criminal Justice System both at the National and sub National levels, the aforementioned reasons continued to make it ineffective.
He therefore urged participants at the conference, attended by Governor Okowa, to come up with strong recommendations that will assist in reforming Nigeria's Criminal Justice System.
In his words; "As a nation we have made a leap in an effort in reforming our Criminal Justice System through the passage into Law of the Administration of Criminal Justice Act, 2015.
"In Delta State, we have also domesticated and passed into law Delta State Administration of Criminal Justice Law in March, 2017.  Also, in attempt to make the Criminal Justice System work effectively in Delta State, the Delta State House of Assembly has passed into Law: Delta State Peace and Vigilante Commission Law, 2013; Delta State Security Trust Fund Law, 2014; Delta State Anti-Kidnapping Law, 2016; and Delta State Anti-Terrorism and Anti-Cultism Law, 2016".
"Aside the above Laws, there are also pending Bills undergoing legislative processing in our Chambers.  Some of them are: Delta State Special Offences Court Bill, 2016; Delta State Office of the Public Defender Bill, 2017 and Delta State Criminal Code Bill, 2017″, the Speaker added.
While congratulating the Nigerian Bar Association, especially the NBA Criminal Justice Reform Committee for putting the Conference together, the Speaker urged that the effort be sustained to meet the dynamics of Nigeria's Criminal Justice System.
He said that;"I must commend your choice for the theme of the Conference, "Criminal Justice Reforms in Nigeria – The Journey so far".  In my opinion, the theme is apt and germane in view of the plethora of economic and social vices daily confronting our beloved country Nigeria. The theme of the Conference requires first, the knowledge of what Criminal Justice System encompasses, then a probe into its successes or failings, and lastly, recommendations towards reformation".