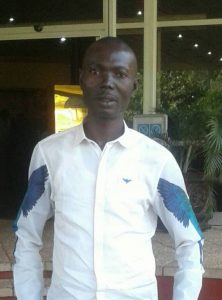 Comrade Martins Uko, Personal Assistant to the Speaker, DTHA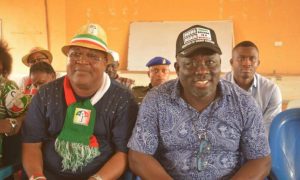 LEFT TO RIGHT: CHIEF J.J. SCOTT, OKPE CHAIRMANSHIP CANDIDATE AND RT. HON. (CHIEF) SHERIFF OBOREVWORI, SPEAKER DELTA STATE HOUSE OF ASSEMBLY AT THE CAMPAIGN
Comrade Martins Uko, Personal Assistant to the Speaker, Delta State House of Assembly, Rt. Hon. Sheriff Oborevwori, has called on all Okpe sons and daughters to vote the Peoples Democratic Party Candidate in the Okpe Government Elections and the State at large. He said this while addressing youths and women in ward 10 earlier today: "Okpe is PDP and PDP is Okpe. PDP has never failed Okpe and Delta People; that is why we have stood with the party through thick and thin. There is no point to change the winning team. Don't allow anyone to tell you to vote against the PDP because victory is sure."
He went further to commend his Principal, Rt. Hon. Sheriff Oborevwori, Speaker Delta State House of Assembly, and other leaders of the party.
"The Speaker is a good man and a leader who has imparted a lot of lives. His benevolence and commitment to Okpe cause cannot be overemphasized. He stands with all the candidates in the forthcoming election and is ready to do everything possible and right to ensure victory.
"My principal is a godly man who depends on God and has been praying steadfastly for Okpe to have 100% victory in all the Local Government Areas in the State."
Martins also charged the people to vote for Chief J.J. Scott and the other flag bearers because they have what it takes to move Okpe forward.