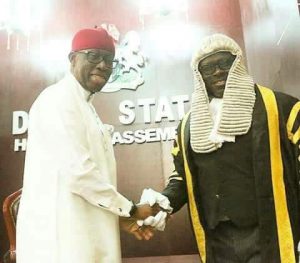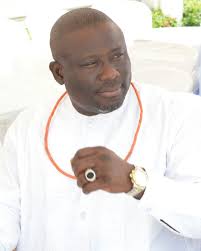 The Speaker of the Delta State House of Assembly, Rt. Hon Sheriff Oborevwori, has commended Governor Ifeanyi Okowa for his prudence in the utilization of funds and promised that the Legislative Arm and the Executive will continue to work in harmony in order to give Deltans a better deal.
He said that; "We should all be grateful to God for giving us a leader like Governor Ifeanyi Okowa at a critical time like this in the history of our country. Things have been tough all over the country, especially due to the drop in oil price, and the situation was so worrisome. But somehow the Governor has done his best and things are looking brighter now. I strongly believe that with him in power come 2019, Deltans will be better for it and so we should continue to support our dynamic Governor."
Rt. Hon Sheriff Oborevwori has also rained encomiums on the members of the House committees for their commitment, devotion and desire to ensure that the 2018 budget was signed into law early.
In a brief chat with newsmen in Asaba, the State Capital, the Speaker said he was impressed with the efficiency and team spirit members of the various House committees worked with the various MDAs.
According to him, the work done so far is a good sign that better days are ahead for the state, adding that; "I am impressed with the work of the various House committees. Their efficiency and dedication is a good sign for the future of the state. Our commitment to duty is because of the love we have for our constituents. We are desirous of getting the budget ready early enough for the betterment of Deltans. We want our people to experience transformation in the various sectors in no time, especially in the area of roads construction and rehabilitation. Our people should continue to support us to do the work they elected us to do"