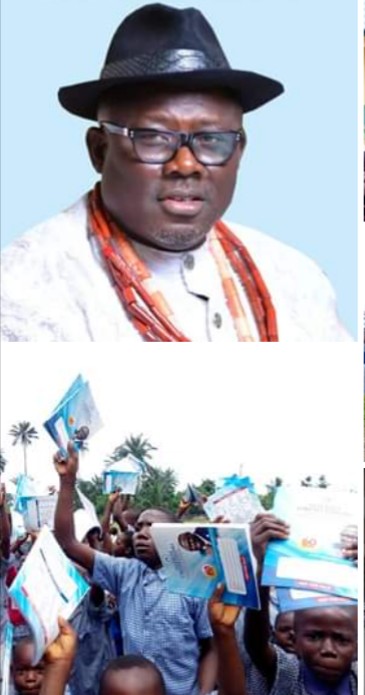 SHERIFF OBOREVWORI FOUNDATION CONTINUES THE DISTRIBUTION OF EXERCISE BOOKS TO SCHOOLS IN OKPE, TODAY FRIDAY, 1ST MARCH, 2019.
In continuation of Sheriff Oborevwori Foundation's educational support programmes for pupils and students in Okpe state constituency, the Foundation today, Friday 1st March, 2019, donated exercise books to nine secondary and primary schools in Okpe local government area.
The schools visited today are: Onyeke Secondary School, Onyeke Primary School, Eruohwo primary school, Ijorogu Primary School and Okwejeba Primary School, others are Okpe primary School Okwidiemo, Amiemiedi Primary School Okwetolor, Opuraja Primary School and Iriama Primary School.
The donation of books to schools in the constituency started on the 7th of February and will continue next week. The Foundation is poised to ensure that the children of the four political zones of Okpe benefit from the educational scheme of Rt. Hon. Sheriff Oborevwori, founder of the Foundation.
Recall that, the Foundation awarded scholarship to Okpe students in various universities in Nigeria late last year.
The teachers and children of the schools visited were visibly delighted and prayed for God to grand Oborevwori victory in the coming election for him to continue to impact the children and the people of Okpe.
Sheriff Oborevwori is the candidate of the PDP for Okpe state constituency election into Delta State House of Assembly.