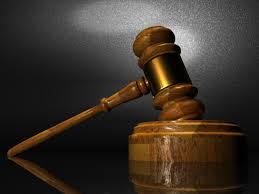 An Asaba High Court presided over by the Chief Judge of Delta State, Justice Marshal Umukoro has sentenced three to 21 years imprisonment each with hard labour for the kidnap of the wife of the Speaker, Delta State House of Assembly speaker Mrs. Oborevwori Tobore.
The convicts, Innocent Kpalajo, 35, Ejiro Omorere 36 and Festus Okoro, 28 were arraigned in May 2011 on a four count charge for conspiracy to kidnap, kidnap, demanding with menace and Armed Robbery,  offences punishable under Sections 516 (a), 364, 406 of the Criminal Code Law Cap. C 21 Vol.1, Laws of Delta State of Nigeria 2006 and section 1 (2a) of the Robbery and Firearms ( Special Provisions) Act Cap. R 11.
The three accused persons had pleaded not guilty to the four counts charge.
According to the prosecution, Mrs. Tobore Oborevwori who identified one of her captors as her husband's driver, testified that on the 8th of May 2011, at about 1.00pm while driving  along Osubi Road after visiting a widow, noticed a gold coloured Toyota Camry car following her and suddenly ambushed her car.
Thereafter, two men carrying arms came out of the car, took her to the back seat of their car, blindfolded her and drove her to an unknown destination.
She was later chained hands and legs in a toilet with another female victim, disclosing that the culprits dispossessed her of her Toyota Camry car No. DT 688, BlackBerry touch phone and other personal effects.
The Principal witness stated that after 48 hours of incommunicado, the accused persons used her phone to call her pastor demanding for #50 million ransom.
The Department of State Security was later contacted who used the calls to trace one of them to a hotel at Afiesere where he was arrested, and this later led to the rescue of the victim on 13th of May, 2011 at Okpare-Olomu.
Justice Marshal Umukoro in his ruling, stated that having thoroughly weighed the evidences adduced by both prosecution and defence counsel on the scale of Justice, he was convinced that the prosecution has established the ingredients of conspiracy, kidnap, demanding by menace and robbery, and accordingly found the three accused persons guilty of the four counts charge.
The convicts broke down and pleaded for mercy but the Chief Judge reminded them how they would feel if their mothers, sisters or relatives were kidnapped.
He described the second accused person, who was driver to the husband of the victim as a traitor of the worst kind.
The Court also ordered the rearrest of one Rotimi Oyewole who received and bought the robbed Camry car with registration No. DT 688 ASB to face trial, and same with Oghenemano Isiah who jumped bail.