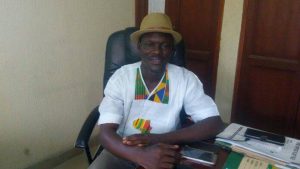 Comrade Sheriff Mulade
The Chairmen of Gbaramatu communities have urged the Federal Government to fulfill its promise to fast track the takeoff of the Nigerian Maritime University Okerenkoko, Gbararmatu Kingdom, Warri South-West Local Government Area of Delta State.
The Gbaramatu communities chairmen insisted that Okerenkoko Community is the original land owner of the Nigerian Maritime University.
The chairman of Kokodiagbene Community, Gbararmatu Kingdom, Comrade Sheriff Mulade who spoke on behalf of the Chairmen of Gbararmatu Communities said that the takeoff of the Maritime University has been delayed for too long and implored the Federal Government to do the needful without further delay.
He expressed disappointment over the way and manner in which the Federal Government is handling the take off of the Nigerian Maritime University, Okerenkoko in spite of assurances by the Government and the Two Billion Naira takeoff grant released.
Comrade Mulade emphasized that the people of the Niger Delta Region were losing trust and confidence in the Federal Government for not showing enough commitment to the promises it made to the people on the smooth takeoff of the University.
He said Okerenkoko Community remains the Original Land Owner of the Nigerian Maritime University, appealing to Government to expedite action on the takeoff of the University.