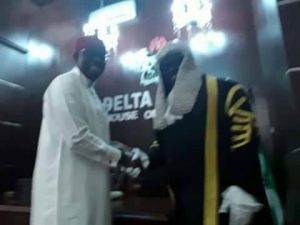 Speaker, Delta State House of Assembly, Rt. Hon. Sheriff Oborevwori has commended Governor Ifeanyi Okowa for the numerous appointments that have been recorded within his administration noting that Deltans have never witnessed such magnitude of appointments since the creation of Delta State.
Oborevwori who stated this when executives of the Urhobo Youth Council (UYC) paid him a courtesy visit on Wednesday in his office said, Governor Okowa as a grassroots politician, knows the people and has given out alot of appointments.
While responding to the demands of the youth body as conveyed in the speech of its President, Comrade Festus Igherebuo who allegedly accused Governor Okowa for denying them of their usual entitlements and refusal to appoint any of them into the Water Way Security, the Speaker said, "I disagree with you if you say our people have not been carried along. There is no local government in Delta Central that do not have a member of the water way security. Before it wasn't spread like this, some local government area never had appointments for water way security."
Continuing, Oborevwori added that, "When you talk about appointments, I want to state clearly here that since I have been in Politics for close to three decades now, people have not been appointed in government like this. The appointments that the Governor has given out I have never seen it since the creation of Delta State. In 2003 when I was appointed Special Assistant, I was the only person appointed in Okpe. Very few appointments were made that time and Special Assistants were not up to 20″.
"On the issue of appointments, His Excellency has done very well and we will also see to more appointments when the opportunities come up. What you people should do is to ask for more and not to say there have not been appointments," the Speaker said.
He assured the youths of Government's commitment towards their welfare, maintaining that with the gradual increase in the revenue sector of the State, Governor Okowa will reach out deeper to all groups in the State and enjoined them to keep up the peaceful emblem which the Urhobo Youth Council is known for.
Earlier, the Youth Council through its leader, Comrade Festus Igherebuo congratulated Rt. Hon Sheriff Oborevwori on his emergence as Speaker and presented some of the challenges confronting the body.
He appealed to the Speaker to intervene for them by drawing the attention of government to their plight.