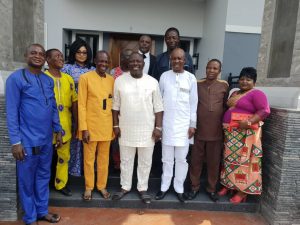 OVIRI OKPE COMMUNITY, ON A THANK YOU VISIT TO DELTA SPEAKER, OBOREVWORI, FOR THE CONSTRUCTION OF A BLOCK OF SIX CLASSROOMS AT OVIRI OKPE SECONDARY SCHOOL AND THE APPOINTMENT OF THEIR SON, WILSON OKIKI AS S.A TO GOVERNOR OKOWA.
THE DELEGATION WAS LED BY MOSES OKIKI, DSP RTD. OTHERS ARE: WILSON OKIKI, S.A TO GOVERNOR OKOWA, DR MRS AUGUSTINE ERAH, HON. PETER ANIGHORO, COUNCILLOR REPRESENTING THE WARD.
THE COMMUNITY ALSO APPEALED FOR SCHOOL DESKS. THE SPEAKER, OBOREVWORI, GRANTED THEIR REQUEST WITH A PROMISE TO DELIVER THE DESKS TO THE SCHOOL.
OVIRI OKPE IS IN FEDERAL WARD 2, IN OKPE LGA, DELTA STATE.