Over 100 APC members defect to PDP In Orerokpe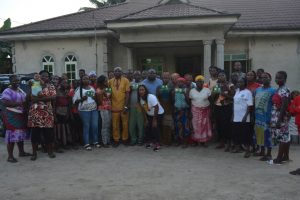 Over 100 members of All Progressives Congress (APC)  from Orerokpe, Headquarters of Okpe Local Government Area of Delta State, recently  dumped their party for the People's Democratic Party (PDP).
The former APC members said they had to defect to the PDP as a result of the  goodwill of Governor Okowa, the Speaker of the State House of Assembly, Rt Hon Sheriff Oborevwori  and their son, Hon Francis Okan, Chief of Staff to the Speaker of  Delta State House.
Speaking at the occasion, Hon Okan who is also the Secretary of the party and the leader in the ward, implored  the new members of the PDP to work for the success of the party in the 2019 general elections.
Hon Okan said the achievements of the current Governor of the State, Senator. Dr. Ifeanyi Okowa speaks volumes for itself and therefore  deserved support of the people beyond the previous support they had given.
He added that the only way to show their support for the hard working  Governor and  Speaker of the Delta House of Assembly was to vote them back in 2019 general elections.
According to him, his appointment which made it possible for him to be touching lives of the people in the town was  as a result of the emergence of Rt. Hon. Oborevwori as Speaker of the House.
He  reiterated that in previous elections, "majority of voters go to the voting centres without preparing their minds from home on who to vote thereby making wrong choice".
Hon. Okan said he was not talking to them for the purpose of voting alone but for them to join the PDP and to work daily for the growth of the party.
He said he wanted to see them work by bringing their husbands, children, neighbours and other non-party members to the PDP, describing the party as "an elephant whose meat is capable of taking care of everybody."
He disclosed that the projects in the community were  attracted to the community through the efforts of some of the leaders in the PDP.
Highlight of the ceremony was the issuance of PDP membership cards to all who defected.The new members who were surprised at the gesture said it was their first time they were seeing a party card.
The presentation of the PDP membership cards to them was done by the ward chairman,  Comrade  Lucky Akpoviri, Mr. Young Okotie, ward secretary, Ms. Jospehine Adarighofua, ward woman leader, Personal Assistant to the Speaker, Mr. Martin Uko and Hon. Okan Francis.