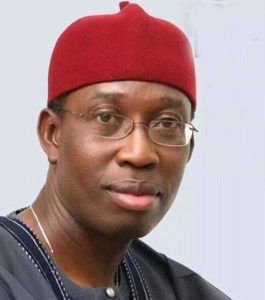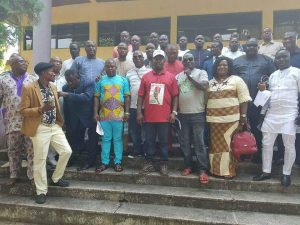 OKOWA DESERVES A SECOND TERM – VOA
Vote Okowa Again 2019 (VOA), a political pressure group that is making waves in the social media has the mandate of ensuring continuity of the SMART Agenda that is geared towards Prosperity for All. The objective is to ensure that Governor Ifeanyi Okowa remains the captain of the Ship Delta till 2023.
The Director General, Comrade Hope George The Senior Special Assistant on Youth Development to the Governor, made this known during the inaugural meeting yesterday, "We have resolved to bring together like-minded Deltans into a formidable group with renewed focus towards the actualization of the second term of Senator Dr. Ifeanyi Okowa as Governor of Delta State. We will work as a team to consolidate on the SMART Agenda of the administration and to mobilize all Deltans under the group to build a state answerable to the dreams of the youths and Deltans in general."
The inaugural meeting, which comprised of young heavy weights and firm voices in Delta politics, was graced by the Political Adviser to the Governor, Hon. Omimi Esquire. He lauded the leadership and members of the group. He described them as men and women with enviable track record and urged them to go to the grassroots to educate Deltans on the need for the Governor to be reelected.
He said, "Despite the fall in Federal allocation and the Economic recession that bedeviled the nation, the Governor has been able to provide democracy dividends since May 2015 till date. It is expedient for Deltans to give him another fresh MANDATE just as his predecessors had since the birth of the present Democratic dispensation."
The Political Adviser charged the group to remain focused in their determination to canvass for votes for the Governor in 2019 and pledged to assist them in the pursuit of their vision.
While addressing the group on the composition of the leadership of VOA, Comrade George said the State, Senatorial, and Local Government Executives of the group were made up of grassroots mobilizers and gave assurance that with the official inauguration, the job of marketing the present administration to the masses has commenced.
He advised VOA members to work in consonance with their MANDATE to return the Governor to government House in 2019 stressing that they are not a parallel body to the PDP structure.
ARE YOU LOOKING FOR ANSWERS TO ECONOMIC QUESTIONS FOR YOUR FUTURE?
OPEN THE PAGES OF "HUNGER REPUBLIC" AND YOU WILL FIND SOME INTERESTING
FACTS THAT WILL ADD VALUE TO YOUR LIFE.
FOR YOUR COPY AT N700.00 CONTACT YOUR LOCAL BOOKSHOP