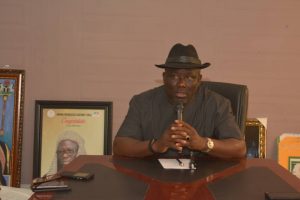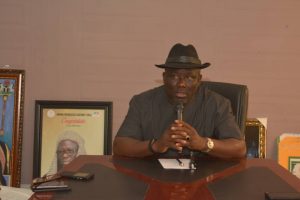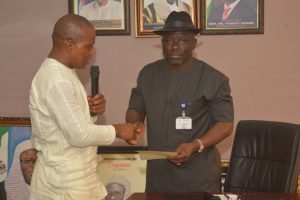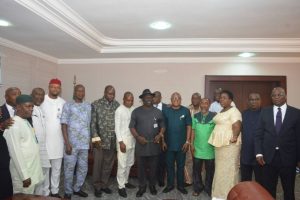 The Speaker of the Delta State House of Assembly, Rt Hon Sheriff Oborevwori has promised to continue to interface with critical stakeholders at ensuring sound law making activities in the state legislature.
Rt Hon Oborevwori stated this when he played host to the Executive of Forum Of Former Members of the State House of Assembly who paid him a courtesy visit in his office in Asaba.
The Speaker stated that the present crops of legislators will always tap from the experience of members of the forum, stressing that the foundation they laid in the house had continued to wax stronger.
Describing them as non sitting members of the house, Rt Hon Oborevwori assured the former lawmakers that all issues raised will receive the desired attention.
He told the visiting former colleagues that the visit was a home coming, reminding them that they are in the business together and stressed the need for them never to abandon the house in its quest to promote good governance in the state.
Rt Hon Oborevwori stated that the Delta State House of Assembly was doing well and attributed the success story to the good working relationship between the state legislature and the executive arm of government.
The Chairman, Forum Of Former Members of the Delta State House of Assembly, Hon Aneke Ifemeni in his remarks commended the leadership of the State Legislature for the stability in the house.
Hon Efemeni stated that the Delta State House of Assembly had maintained the foundation laid by the succeeding Assembly, stressing that the house remains the most peaceful and non violent Assembly in Nigeria.
He said although there were times where change of leadership occurred, none had ever recorded violent like what obtained in some states in the country.
Hon Efemeni maintained that the forum was very proud of the happenings in the sixth Delta State House of Assembly and charged the members to keep the standards, even as he promised the forum commitment to promoting peace and development in the state.
Some members of the state house of Assembly, including Hon Johnson Erijo, Denis Omovie, Alphosus Ojo, Angela Nwaka, Emeke Nwaobi, Daniel Yingi, Peter Onwusanya and Shola Daibo were present during the courtesy visit.