DELTA SPEAKER, OBOREVWORI HAILS OKOWA FOR SUCCESSFUL PDP NATIONAL CONVENTION
*** CONGRATULATES, ATIKU ABUBAKAR,   PDP PRESIDENTIAL FLAG BEARER FOR HIS LANDSLIDE VICTORY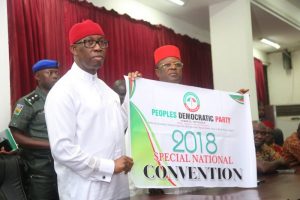 The Speaker of the Delta State House of Assembly, Rt. Hon Sheriff Oborevwori has hailed the state Governor, Senator (Dr) Ifeanyi Okowa for conducting a successful National Convention of the People's Democratic Party (PDP) just as he Congratulated former Vice President, Atiku Abubakar, the PDP Presidential Flag bearer for his landslide victory.
The Speaker in a Press Statement by his Chief Press Secretary, Dennis Otu on Sunday, October 7, 2018, commended  Governor Okowa for conducting a peaceful and credible PDP 2018 Elective National Convention in Port Harcourt, Rivers State.
According to the Statement; "When the Governor was named the Chairman, Planning Committee of the Special National Convention of the PDP, I knew that he was going to do a great job. This is not the first time  he has been given this type of assignment. The Governor did extremely well as the Chairman of the Planning Committee of the Convention. He has never failed to deliver on a given assignment by the Party".
"Our Governor is a product of democracy, he started from the grassroots. He is a true Democrat. He worked very hard to deliver a credible, free, fair and acceptable Convention in Port Harcourt. Our Governor is a man of integrity and transparency. Members of our great Party, Nigerians and the International Community are satisfied with the conduct of the Convention", the Speaker added.
He also said that;"The Governor is a gift and blessing to our generation. He has perfected the act of conducting free, fair, transparent and acceptable elections. He has made Deltans proud once again through the peaceful conduct of the PDP 2018 Elective Convention. We are proud of Governor Okowa".
The Speaker used the medium to congratulate, the former Vice President,Atiku Abubakar, the  PDP Presidential Flag bearer, saying he emerged through a very transparent election process with 1,532 votes. 
 Rt. Hon Oborevowori urged members of the Party to rally support for the PDP Presidential Flag bearer, Atiku Abubakar for the February 2019 Presidential election, saying he has what it takes to lead the Party to victory.
The Speaker also congratulated the other aspirants and urged them to work together to ensure victory for the party come 2019.