Nigeria @ 58: Okowa salutes Nigerians, urges unity against anti-democratic forces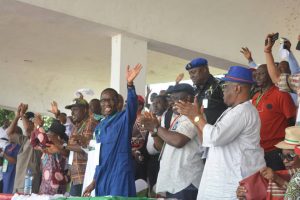 Delta State Governor, Senator Dr. Ifeanyi Okowa has  felicitated with Nigerians on the 58th Independence anniversary with a charge on Nigerians to work against acts capable of truncating the nation's democracy.
In a statement in Asaba on Sunday by his Chief Press Secretary, Charles Aniagwu, Governor Okowa admonished Nigerians to be proud of their country and work in unison irrespective of political, religious and ethnic diversities to ensure the continued corporate existence of the country.
The statement reads: "On behalf of Government and the people of Delta State, I congratulate Nigerians on the occasion of the 2018 Independence Day celebration on October 1, 2018. Our people have enjoyed democracy since 1999 and appreciates better, the inherent gains of democracy, as respect for human rights and the rule of law. In order to protect this hard earned democracy, we must work harmoniously to improve on our electoral system".
The Governor urged Nigerians  to continue to work together in unity so as to surmount the challenges threatening to destabilise the democratic experience and undo the gains achieved in the past 19 years.
"We should be proud to be Nigerians because God in His infinite wisdom did not make a mistake in His decision to make us Nigerians," Okowa said, adding, it is a day to celebrate our glorious state and great nation; and to pay tribute to our countrymen and women who sacrificed so that we can celebrate this day; we should never forget the sacrifices of our heroes past."
The Governor observed that at 58, the journey has not been easy for the country, as she has witnessed economic and political setbacks; bloodletting largely due to misguided religious extremists. He assured all residents of the state that the government would continue to develop solutions to address challenges in all sectors of the economy.
He commended Deltans especially the oil producing communities for giving peace a chance which has culminated in uninterrupted oil production in the region.
"Despite the challenges we are facing as a nation, we must remain resolute to keep alive the dreams of our founding fathers," the governor said.