DELTA ASSEMBLY SCREENS, CONFIRMS NOMINATION OF CHAIRMAN, SECRETARY,  BUREAU OF LOCAL GOVERNMENT PENSION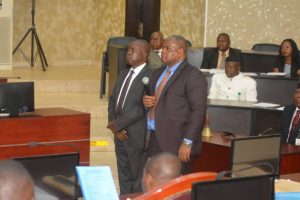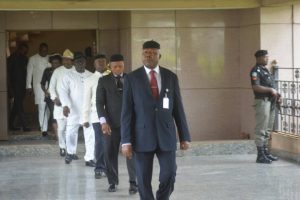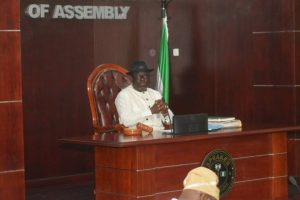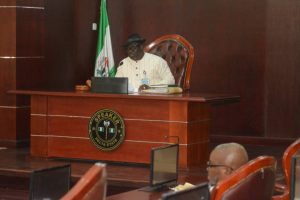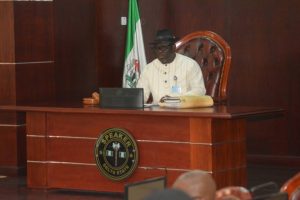 The State House of Assembly has screened and confirmed the nominees for appointment as Chairman and Secretary of the State Bureau of Local Government Pension.
The nominees were screened at Wednesday's plenary presided over by the Speaker, Honourable Sheriff Oborevwori .
The nominees screened and confirmed are Mr Benjamin Igo, a retired     Permanent Secretary as Chairman and Dr Onyemeni Frank Atube ,a Director of Personnel Management as Secretary.
The Screening of the nominees followed a motion moved by the Majority Leader, Honourable Tim Owhefere,seconded by the Chief Whip and member representing Oshimili North Constituency, Honourable Pat Ajudua and adopted.
Thereafter, the Speaker directed the nominees to appear for screening where they were introduced by the lawmakers representing their constituencies.
Honourable Reuben Izeze representing Ughelli South constituency  introduced Mr Benjamin Igo who he said  served the state civil service meritoriously and retired as  Permanent Secretary while Honourable Anthony Elekeokwuri representing Ika  North East Constituency introduced Dr Onyemeni Frank Atube.
The Speaker directed the nominees to take a bow and leave.
The Majority Leader,Honourable Tim Owhefere moved for the House to confirm the nominees seconded by Honourable Daniel Yingi and adopted.
The House has adjourned plenary to September 25,2018.