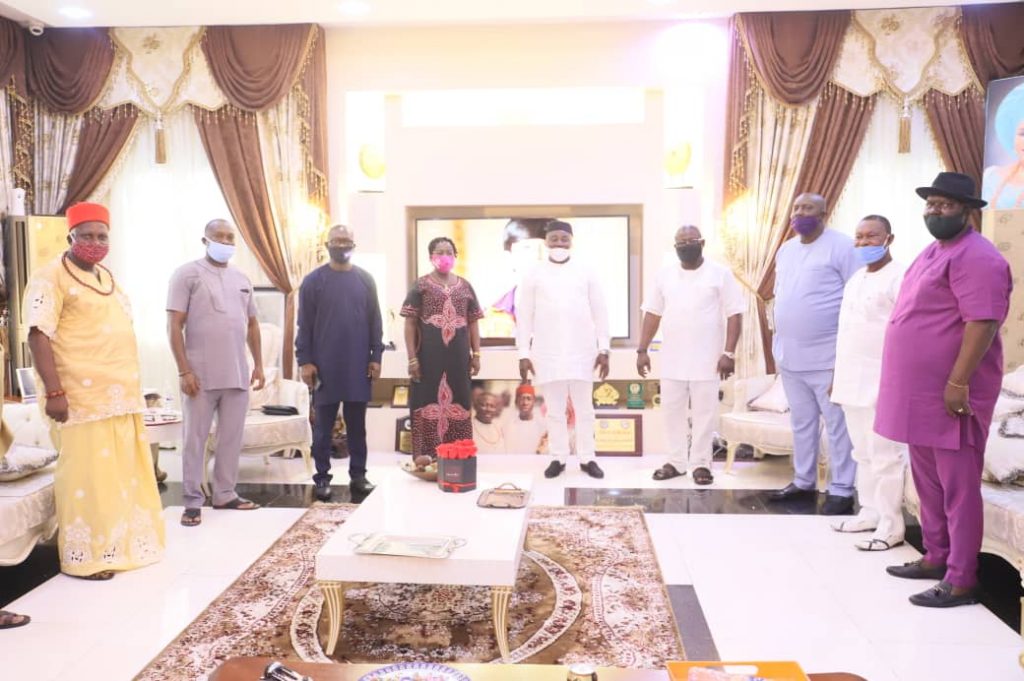 IMAGES FROM THE "THANK YOU VISIT" ON THE SPEAKER OF DELTA STATE HOUSE OF ASSEMBLY, RT HON SHERIFF OBOREVWORI, BY THE POLITICAL ADVISER TO THE SPEAKER, SIR (HON) MATTHIAS ETO, ON SUNDAY, JUNE 7, 2020 IN HIS OSUBI RESIDENCE.
*** RT HON OBOREVWORI LAUDED HIS POLITICAL ADVISER, SIR (HON) ETO AND HIS ENTOURAGE FOR THE VISIT, DESCRIBING HIM AS A VERY GOOD PERSON TO WORK WITH
*** THE SPEAKER SAID THAT THE RELATIONSHIP HE HAS BUILT WITH HIS "FAMILY" IN THE ENTIRE ISOKO LAND IS ONE THAT MONEY CANNOT BUY, STRESSING ON THE NEED TO BUILD UPON IT.
*** THE DIRECTOR GENERAL OF THE WARRI, UVWIE AND ENVIRONS DEVELOPMENT AGENCY (WUEDA) COMRADE OVUOZORIE MACAULAY WHO WAS ON THE ENTOURAGE, SAID THAT THE PEOPLE OF ISOKO NATION ARE SATISFIED WITH THE APPOINTMENT THE SPEAKER GAVE TO SIR ETO.
*** THE POLITICAL ADVISER, SIR ETO EXPRESSED GRATITUDE TO THE SPEAKER FOR HIS APPOINTMENT AND SAID THAT; "MY APPOINTMENT IS VERY SIGNIFICANT AND I CANNOT THANK YOU ENOUGH FOR IT".
SIR ETO WAS ALSO ACCOMPANIED BY THE MEMBER REPRESENTING ISOKO SOUTH I CONSTITUENCY, HONOURABLE KENNETH OGBA, THE CLAN OTOTA (SPOKESMAN) OF OLEH, CHIEF BENJAMIN ONOJERAME, THE MANAGING DIRECTOR/ CEO OF DANTINAJO GOLD RESORTS LTD, OLEH, ENGR. DANIEL OMOYIBO (AKA DANMOTECH) AND HOST OF OTHERS.