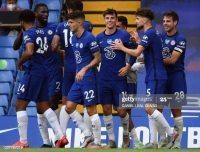 The formation a coach deploys is an integral part of his or her strategy to succeed in any duel. The formation I would recommend is a 3-5-2 Massive defense and attack formation.
This is not a game to be too cautious. We must attack to score goals because Liverpool will believe they have goals in the game. Also, all players must be ready to run to the end of the game, so that everyone must share in the defensive duties; this is a game we must win.
By Sunday, the team should have had more time practice together for the fluidity of movements. This is very important if we're going to get something out of the game on Sunday.
Liverpool will be looking for blood to prove that they still have what it takes to retain the title and strike fear in opponents. The only way to achieve this dominance at an early stage is to defeat a close rival for the title. And the game at Stamford Bridge is the opportunity.
The Chelsea team will have to be aware of this and must have this same mentality; to beat Liverpool this early can restore the fear factor the team once possessed during the Terry-Lampard-Cech-Drogba era.
If all players are fit (apart from Ziyech), I will go for a 3-5-2 massive attack/defense formation with mostly this personnel:
The defense trio will depend on Thiago's fitness for this game. Then the situation with Havertz's readiness for the big match can put Pulisic for consideration in the starting lineup to start upfront with Werner.
I know many fans will be gunning for Kovacic over Mount, but I think Mount's energy and goals can be a threat to Liverpool's backline. Mount gives us goals, where Kovacic still needs to catch up on. This a game where we must push hard, shoot, and be hard on the tackle without causing damage.
Lastly, I have left Kepa out because I think he is a lad short of confidence. Kepa gives hope to oppositions that they will score against Chelsea, so they are keep pressing until the end. In a game of this magnitude, confidence is everything.
Go, Chelsea!