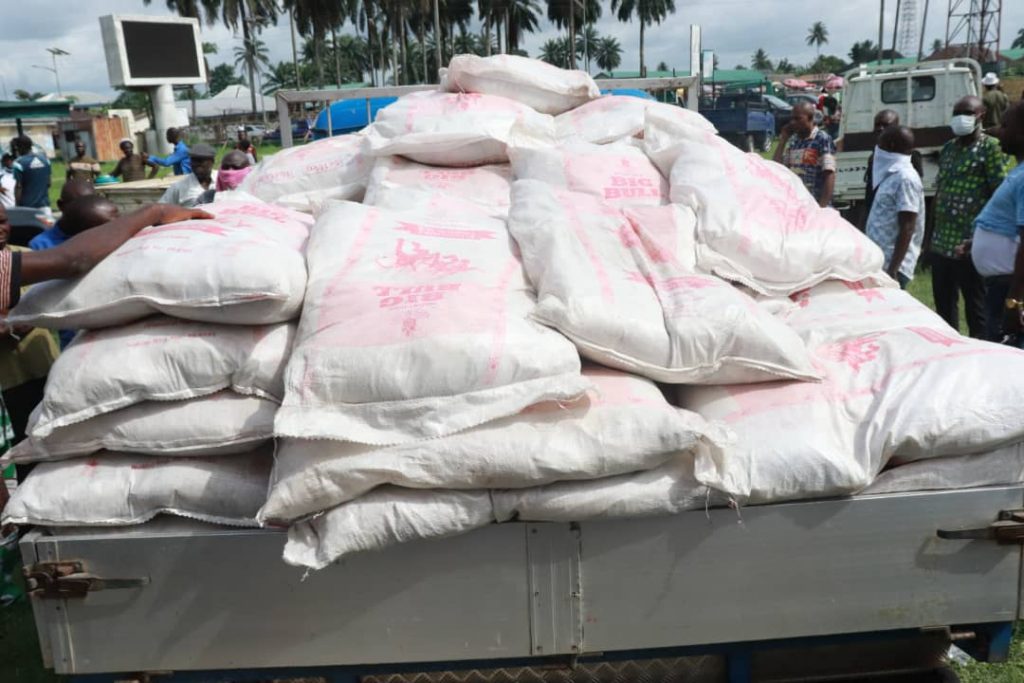 DELTA SPEAKER, OBOREVWORI, WORKS COMMISSIONER, CHIEF JAMES AUGOYE, OTHERS ON SATURDAY, APRIL 18, 2020 IN OREROKPE KICKED OFF THE DISTRIBUTION OF PALLIATIVES FROM THE DELTA STATE FOOD BANK TO THE PEOPLE OF OKPE LOCAL GOVERNMENT AREA TO CUSHION THE EFFECT OF COVID -19.
*** 40 BAGS OF RICE AND 20 BAGS OF BEANS WERE SHARED TO EACH WARD IN OKPE LOCAL GOVERNMENT AREA.
MEMBERS OF THE OKPE FOOD BANK COMMITTEE ARE :
(1) THE CHAIRMAN OF OKPE LGA, CHIEF J.J SCOTT IS THE CHAIRMAN OF THE FOOD COMMITTEE
(2) HOUSE MEMBER
(3) WORKS COMMISSIONER
(4) REPRESENTATIVE OF THE ORODJE OF OKPE KINGDOM ( CHIEF MIKE AFFE)
(5) CAN CHAIRMAN, REV. ERIC OMAMUYOVWE ORIOSA
(6) CHIEF ESTHER ONOKPASA
(7) CHIEF DORA SAKPAIDE
MEMBERS OF COMMITTEE SET UP IN ALL THE WARDS OF THE LOCAL GOVERNMENT AREA FOR THE DISTRIBUTION OF THE PALLIATIVES ARE:
(1) THE PRESIDENT- GENERALS/ CHAIRMEN
(2) THE TWO WARDS COUNCILLORS
(3) COMMUNITY YOUTH LEADERS
(4) COMMUNITY WOMEN LEADERS
(5) THE CLERGY
*** THE CHAIRMAN OF OKPE LGA WHO IS ALSO THE CHAIRMAN OF OKPE FOOD COMMITTEE, CHIEF J.J SCOTT SAID THAT HE WAS SATISFIED WITH THE DISTRIBUTION OF THE PALLIATIVES TO THE VARIOUS WARDS AND VILLAGES IRRESPECTIVE OF PARTY AFFILIATIONS.
*** DELTA SPEAKER, RT HON SHERIFF OBOREVWORI WHO REPRESENTS OKPE STATE CONSTITUENCY IN THE HOUSE COMMENDED THE STATE GOVERNOR, SENATOR DR IFEANYI OKOWA FOR THE PALLIATIVES.
*** HE SAID THAT THE DISTRIBUTION WILL BE PROPERLY MONITORED BY THE LGA COMMITTEE AND WARNED THAT MEMBERS OF THE FOOD COMMITTEE AT THE WARDS ARE GOING TO BE HELD RESPONSIBLE FOR ANY LAPSES.
***THE SPEAKER URGED HIS CONSTITUENTS TO STAY SAFE ALWAYS BY OBSERVING SOCIAL DISTANCING, WASH THEIR HANDS REGULARLY AND APPLY SANITIZERS.