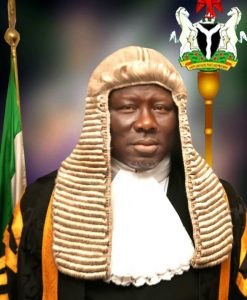 The Delta State Private Health Care Centre Bill, has passed second reading on the floor of the State House of Assembly.
The second reading followed conclusion of debate on the merits of the bill at plenary presided over by the Speaker, Rt Hon Sheriff Oborevwori.
Leading debate on the merits of the bill, the lead sponsor, Hon Alphonsus Ojo, Ukwuani said the proposed law will cut down on death rates in the Delta state.
Hon Ojo stated that the bill became more necessary due to lack of proper regulatory mechanisms available to check quackery, stressing that the proposed law will curtail quackery in the state's health sector.
The Lawmaker who is the Chairman, House Committee on Health, said the bill was in pursuant of the constitution of the federal republic of Nigeria which provides that the security and welfare of the people is the responsibility of government.
Hon Ojo said the bill is basically to usher sanity into the state's health sector as it is poised to monitor registration, operations and prohibition of illegal health operators.
According to him, the infiltration of quacks in the state's health sector have led to many avoidable mortalities disclosing that about 80 percent of hospitals in the state are not registered and are managed by charlatans, maintaining that the development is not good for the society.
Hon Ojo said Section 14 of the bill provides for
setting up of a task force to check quackery as well as facilitate supervision and regular inspection of health institutions in the state.
In their contributions, Hon Timi Tonye, Samuel Mariere, Emeka Elekeokwuri, Daniel Mayuku, Dennis Omovie, Daniel Yingi, Shola Daibo, Angela Nwaka, Pat Ajudua and Oboro Preyor argued that the bill touches on every aspects of the life of the state.
The Lawmakers stated that the evil of quackery and the dangers it pose have been given peripheral attention in contemporary developing society, stressing that any person who wishes to run a health centre must be registered.
They said the proposed law would bring a level of sanity in the health system, stressing that a situation where lives are taken for granted should not be encouraged.
They urged that the house should give assent to the bill and expedite action on its passage because of its importance and input in the state's health sector.
No member spoke against the bill which was thereafter, committed to the House Committee on Health and directed to report to the House  April 24, 2018.