DELTA STATE  ASSEMBLY FINANCIAL AUTONOMY BILL PASSES SECOND READING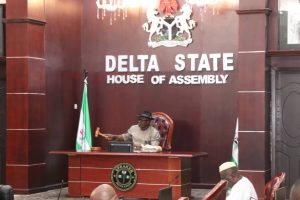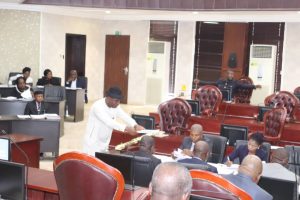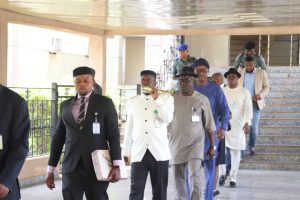 Delta State House of Assembly has described the financial autonomy bill before it as a template for the history of independent legislature in the state.
Delta State lawmakers who extensively debated the Delta State House of Assembly (Financial Autonomy) bill, which passed second reading during the  plenary of Thursday,  December  6, 2018  said with the bill, Deltans should expect more from the State's Parliament.
The bill passed second reading following a motion by the Deputy Majority Leader, Hon. Oboro Preyor and seconded by member representing Aniocha North, Hon. Emeka Nwaobi.
Opening debate on the bill, Hon. Oboro Preyor argued that the bill seeks to insulate the House from external influence that may jeopardise its proceeding, hence it is a win for the independence of legislature in the state.
According to him, the bill is for a law to provide for the management of funds accruing to Delta State House of Assembly from the consolidated revenue fund for Delta State to ensure accountability, transparency, effective and efficient utilization of the funds and for other matters connected therewith.
Hon. Preyor recalled that on the 6th of June 2018,  President Muhammadu  Buhari  signed into law the first item on the fourth alteration which involves financial autonomy for state legislative and judiciary.
He said the bill is therefore to domesticate the provision of the amendment, saying that;  "It is a harmless bill. We have everything to gain and nothing to loss."
Other lawmakers who joined the debate before it was unanimously passed included member representing Ika North East, Hon. Emeka Elekeokwuri and Isoko South II, Hon. Johnson Ejiro.
Hon. Elekeokwuri in his debate, adopted the position of the earlier speaker adding that the bill is a drive in the right direction as far as the development of   legislature is concerned.
He appealed to members of the House to give their support to the bill which he described as a win for democracy
In his debate, Hon. Johnson Erijo argued that ordinarily, the bill ought to be unanimous as it signals a new phase in the annals of legislature in Delta State.
He said the importance of democracy as against the military regime is underscored by the presence of the legislature.
According to him; "Better legislation will get off this house with this law. I salute the sponsors of this bill.""I am saying this today, after been here for close to two decades. I am happy it happened in my time."
Following the unanimous consent of the House, the Speaker, Rt. Hon. Sheriff Oborevwori who presided, referred the bill to the House Committee on Establishment, Ethics, Privilege and House Services to report back on Tuesday, December, 11, 2018.
The House will resume sitting  Tuesday, December 11, 2018.