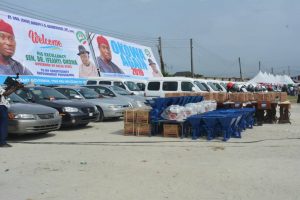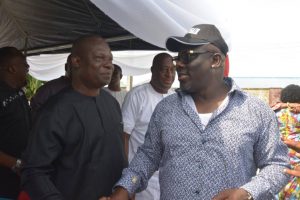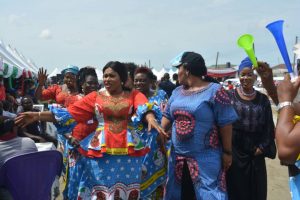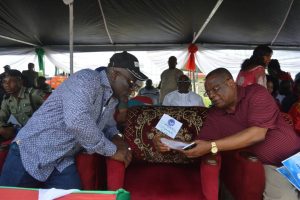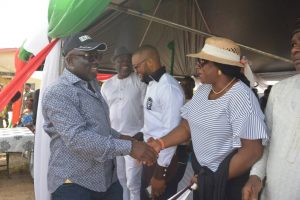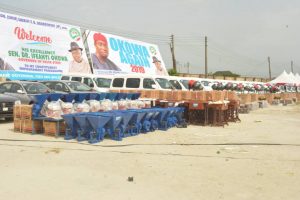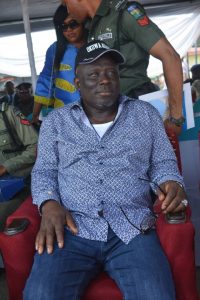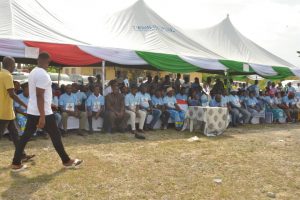 THE Speaker of the Delta State House of Assembly Rt Hon Sheriff Oborevwori, on Friday splashed cars, buses, tricycles, sewing machines and others on his Constituents at an unprecedented Empowerment Programme.
Other items dolled out by the Speaker at the ceremony held at the Trade Fair Complex, Osubi and attended by Governor Ifeanyi Okowa include, deep Freezers, hair dressing saloon Components including generator sets, grinding machines, wrappers and head ties and host of others.
Speaking at his Constituency briefing and Empowerment Programme, he said that;"I am highly elated to welcome you all to this important occasion of my Constituency briefing and empowerment programme. First, I thank God Almighty for His faithfulness and for making today's programme a reality. To Him alone I return all the glory.
I also want to use this occasion to reiterate my gratitude to the good people of Okpe State Constituency. Your show of love and support for me is unparalleled. You have not only given me your mandate to represent you in the hallowed Chambers of the House, you have also supported me relentlessly in your prayers and advice. I say thank you".
"My election is a social contract between me and the good people of Okpe State Constituency. It is my covenant to competently represent you in the hallowed chambers of the State Assembly and I do promise to constantly consult and interact with you. Since 11th April, 2015 when you the wonderful people of Okpe State Constituency gave me your mandate to represent you at the State Assembly, I have maintained an open door policy", the Speaker said.
LEGISLATIVE BUSINESS:
I was elected on 11th April, 2015 to represent the Okpe State Constituency in the Delta State House of Assembly. And by the special grace of God and the benevolence of my colleagues in the House, I was elected Speaker of the Delta State House of Assembly on the 11th May, 2017.
The business of every legislature worldwide is to make Laws and perform oversight functions to ensure order, peace and good government. The Sixth Assembly has consciously established a cordial and productive synergy with the Executive arm of government towards ensuring delivery of dividends of democracy to our people. It is worthy of note, that this healthy collaboration has brought the needed atmosphere for the Sixth Assembly to record remarkable achievements. It is pertinent for me to mention here, that before my election as Speaker of the House, I had sponsored and co-sponsored bills and moved motions in the House.
PROJECTS EXECUTED BY THE STATE GOVERNMENT DURING THE PERIOD UNDER REVIEW
My beloved constituents, I have been committed in maintaining a strong synergy with the Executive arm of government and other relevant agencies and stakeholders to attract development to our constituency. I must commend our smart Governor, His Excellency, Senator (Dr.) Ifeanyi Okowa for his fiscal discipline and commitment in providing good, efficient and effective governance through his Smart Agenda. In the face of the glaring reduction of the State revenue, both from Federal Allocation and internally generated, he was able to manage the State funds to ensure even spread of people-oriented projects across the 25 Local Government Areas of the State.
For us in Okpe Constituency, it has been harvest of projects. The following are projects executed and commissioned by His Excellency in Okpe Local Government Area during this short period of my membership in the State Legislature:
Construction of Onomigbo Street, Orerokpe – (Completed and commissioned)
Construction of Ejinyere/Orodje Street, Orerokpe – (Completed and commissioned), Rehabilitation of Warri/Sapele Expressway by Okuovo and Okuijorogu; – (Completed), Construction of Okuovo – Kpokpogri – Iriama junction- (Completed and commissioned), Construction of Okwetolor – Okobia – Arhagba Road, Phase 1;
(Completed and commissioned), Resurfacing of 11 kilometers Jeddo/Omadino Road;
(Completed and commissioned), Construction of Ultra-Modern Open/lock-up shops, Orerokpe;
(Completed and commissioned) Construction of Bethel Oborevwori Crescent in Osubi and James Ovie Street in Okuokoko (Ongoing) and Construction of Okwemogwa to link Okuokoko
(Ongoing)
CONSTITUENCY PROJECTS
Those executed under my Constituency Projects includes:
A Block of Six Classrooms at Oviri-Okpe Secondary School;
(Near Completion)
A Block of Six (6) Classrooms at Okwikpehre Primary School, Okwikpehre;
(Almost Completed)
A Block of Three (3) Classrooms at Osubi Secondary School;
(Completed)
A Block of Six (6) Classrooms at Evwreke Primary School.
– (ongoing)
Examination Hall and Laboratory Center at Osubi Secondary School. – (ongoing)
EMPOWERMENT
To the teeming youths of my constituency, I want to use this opportunity to urge you to take advantage of some of the key programmes of the present administration that are geared towards sustainable wealth creation and development of the economy of our dear State.
These programmes include Youth Agricultural Entrepreneur Programme( YAGEP), Skills Training and Entrepreneurship Programme( STEP) and Production and Processing Support Programme (PPSP). These are the major components of the SMART AGENDA of this administration, which have positively impacted thousands of Deltans.
My constituents have benefited immensely and I urge others to key into this laudable programmes. Two Hundred and Twenty Seven (227) of Okpe sons and daughters have benefited with starter packs presented to them upon completion of the programmes.
OTHER ACHIEVEMENTS THROUGH SYNERGY
Housemanship for medical officers
Admission into Higher Institutions within and outside Delta State.
Employment into the Delta State Traffic Management Authority (DESTMA)
Distribution of Transformers to communities.
Employment into Nigeria Security and Civil Defense Corps (NSCDC)
Delta State Online Training sponsorship; to mention but a few.
STIPENDS/ALLOWANCES AND EMPOWERMENT
Ladies and gentlemen, it may interest you to know that since my election into the Sixth Assembly, I have placed some of our constituents on various sums of monthly stipends and allowances. I must emphasize that prior to 11th September, 2016, when I did my last Constituency briefing; I empowered some leaders and Party faithful financially across the Constituency. This gesture will be a continuous exercise.
2018 EMPOWERMENT
I have presented my stewardship as your humble representative at the hallowed chambers of the most vibrant House of Assembly in Nigeria. The programme we are witnessing today is in fulfillment of my promise to always appreciate you for your support for me, our great party, the 'Peoples Democratic Party' (PDP) and our amiable Governor, His Excellency Senator Dr. Ifeanyi Arthur Okowa.
This empowerment is hinged on the fact that over the years, I have been a strong believer that it is better to teach a man how to fish than to give him handouts. More so, this is in line with His Excellency, Senator Dr. Arthur Ifeanyi Okowa's S.M.A.R.T Agenda of wealth creation. I am glad to say I enjoy putting permanent smiles on the faces of my constituents.
Today, some number of persons will benefit from the empowerment Programme. I congratulate the beneficiaries and urge those who are not getting today to be patient, as it will get to their turn in due course. I urge all beneficiaries to make good use of the packages to better their lives.
On behalf of Sheriff Oborevwori Foundation, I hereby present the list of items for the 2018 Empowerment:
(1) 4 Cars
(2) 20 Buses
(3) 20  Deep freezers
(4) 10  Tricycles (KEKE)
(5) 20   Hair Dressing Saloon Components including Generator sets.
(6) 40   Grinding Machines
(7) 500   Wrappers and Head Ties
(8) 30     Sewing Machines
(9)  Scholarship Scheme for Secondary and University Students.
10) Financial Assistance to Traders
The beneficiaries for this empowerment were carefully selected in consultation with all stakeholders, particularly PDP, Okpe Chapter that made substantial input and nominated beneficiaries from the 10 Wards across the Local Government Area.
I urge the beneficiaries not to waste this seed being sown in their lives today. If you are diligent to cultivate what you are getting today, it will germinate and bear more fruits. Do not despise the days of little beginning. Your destiny is in your hands, use it well. Touch your dreams now.
SCHOLARSHIP SCHEME
SHERIFF OBOREVWORI FOUNDATION, will kick-off the Scholarship Scheme in September 2018. A five man committee consisting of seasoned and transparent Educationists to be headed by Chief Mrs. Esther Onokpasa is to be constituted soon to supervise the entire process. The Foundation will eliminate the grey areas associated with my previous practice of giving out cash directly to students without records or verification. For clarity sake, 80% of the scholarship will go to indigenes of Okpe Local Government Area and 20% for non indigenes. The scholarship scheme will kick off with an initial sum of Ten Million Naira (N10,000,000.00)
He said that;"I must specially thank His Excellency, Senator (Dr.) Ifeanyi Arthur Okowa, Governor of our dear State, for his show of love and support towards me. Sir, your sterling leadership qualities in governance has engendered peace and massive infrastructural development in the State. You are a leader with a difference. I must say this one thing; our dear Governor is a man who respects the rule of Law. There is a synergy between the House and the Executive to promote order, peace and good government in the State, His Excellency, in his dealings with the Legislature has always maintained and upheld the sanctity of the doctrine of separation of powers. Your Excellency, thank you for leading by example".
"Permit me to also place on record my deep appreciation to our revered royal father, His Royal Majesty, Orhue I, Orodje of Okpe Kingdom, CFR, MNI for providing a strong and solid fatherly support to me. Your Majesty, I must confess that your support is a source of strength for me and has encouraged me to do more for the Okpe people. My appreciation also goes to the Chiefs, elders and leaders of this great kingdom for their love and prayers", he stated.
"I appreciate the presence of our party Chairman, Hon. Barr. (Chief) Kingsley Esiso, Chairman Peoples' Democratic Party (PDP), Delta State, as well as other officers, elders and leadership of our great party at the Federal, State, Local and Ward levels that are here to support me. I salute you all".
My special thanks also go to my distinguished colleagues, honourable members of the most vibrant House of Assembly in the country. You have been very supportive, reliable and dependable. You have again demonstrated your goodwill to me and my constituents this morning in your large turnout for this occasion. God Almighty will reward you", he added.
The Speaker also said that;"Distinguished ladies and gentlemen, let me seize this opportunity to say this: during the electioneering campaigns in 2015, His Excellency told the Okpe people to elect a member who can effectively work with him. The people heeded his advice and elected me to represent this great constituency. Though, I have always maintained a robust relationship with His Excellency long before 2015, it is not out of place if I conclude that my election by my constituents is a fulfillment of His Excellency's desire for a good representation from Okpe State Constituency".
He reassured his Constituents of his continued effective representation at the State Legislature, saying that;"  We can only continue to crave for more development of our constituency by working together and speaking with one voice. I therefore urge you all to remain resolute in the propagation of the policies and programmes of the present administration as we gradually move into another round of campaign activities for the 2019 general election. The era of divide and rule, factionalism and rumor mongering must be pushed aside so that we can embrace the politics of dialogue and peaceful development in Okpe".