Delta Speaker rescues boy from abusive uncle, offers him scholarship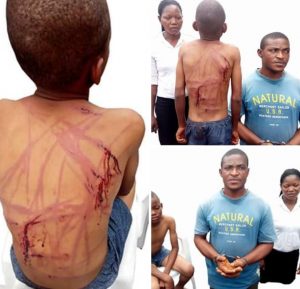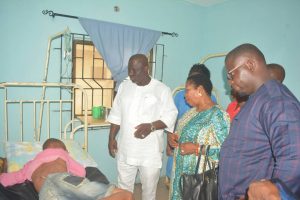 ** OFFERS HIM SCHOLARSHIP
** VISITS HIM IN CLINIC
The Delta State Speaker, Rt Hon. Sheriff Oborevwori has rescued a 13-year-old boy from his abusive uncle who has been maltreating him for some time now.
The Speaker also awarded the boy, identified as Chigozie Ogbu a scholarship up to the university level.
Rt Hon Oborevwori came to the rescue of the boy when he was coming from the church on Sunday and met the rowdy scene along the Osubi Community road  in Okpe Local Government  where the community youth Chairman, Comrade Friday Okpako was handling the culprit, Mr. Ifeanyi Akpa to the police.
According to the community youth chairman, Mr.Akpa  and his wife have been abusing Master Chigozie for sometime now, adding that the couple refused to continue to train him in school after he finished his primary school education..
Mr Ifeanyi Akpa, a male and indigene of Onicha Igbeze of  Onicha Local Government Area of Ebonyi State, who resides in Francis Dogwu's compound in Osubi Okpe Local Government Area of Delta State, was caught red handed abusing his nephew.
According to an eye witness, Master Chigozie does all the domestic work in the house, sells pure water during the day, yet he was severely maltreated by his uncle and his wife daily.
Rt Hon Oborevwore after close examination of the boy, ordered that he be taken to the hospital for proper medical check up as the boy could no longer stand straight due to the  injuries he sustained on his back during a beating from his uncle.
Speaker Oborevwori, also directed Sheriff Oborevwori Foundation Scholarship/Bursary Committee Chairman, Chief Mrs E. E. Onokpasa, to award scholarship to Chigozie to University level to enable him continue his education. He said the Scholarship will run till the end of his university studies. He also promised to ensure the well-being of the child.
As at the time of filing this report, Mr Akpa is already cooling his heels at the Orerokpe police station
Meanwhile, the Speaker, Rt Hon Sheriff Oborevwori on Monday, visited the boy in a private clinic where he is being treated for severe injuries and decried the treatment meted out on the boy.
The Nurse on duty, Mrs Irene Enakerakpo told the Speaker who was accompanied by the Chairman of Sheriff Oborevwori Foundation Scholarship/Bursary Committee, Chief (Mrs) E. E. Onokpasa, that the boy was responding to treatment.