DELTA SPEAKER, OBOREVWORI EMERGES  OKPE PDP FLAG BEARER
*** PROMISES CONSTITUENTS  BETTER DEAL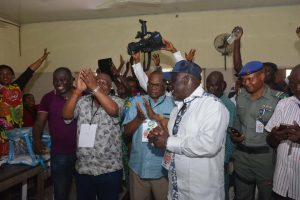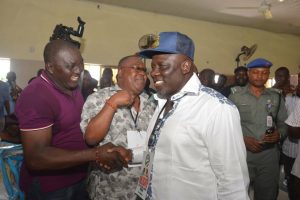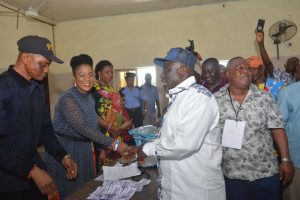 The Speaker of Delta State  House of Assembly, Rt Hon. Sheriff Oborevowori  has emerged as the  Candidate of the People's Democratic Party (PDP), for the Okpe State Constituency, with a promise to continue to touch the lives of the people.
Addressing Party Leaders and delegates after he was declared the winner with 142 votes out of 147 delegates, Rt. Hon Oborevwori, expressed gratitude to members of  the PDP in the area for not contesting against him.
Recall that the Speaker was the only member of the PDP who picked the House of Assembly form for Okpe State Constituency and was successfully screened to participate in the primary election.
"I want to  thank God for what we have just witnessed here today. It can only be God. I am grateful to the good people of Okpe  for this  wonderful  gesture shown me. This uncommon confidence that you have reposed in me will not be taken for granted. Also, do the needful next year by voting massively for me and our hard working Governor, Senator Dr Ifeanyi Okowa. We will continue to count on your support", he said.
"This is not really a speech making day, but be rest assured that, when re-elected next year, more of our people will be empowered. More dividends of democracy will come to our people. I have done it before and  I will do it again", the Speaker added.
Rt Hon Oborevwori who was full of excitement assured his constituents that there was more to come as he recounted some good deeds of the administration, adding that;" They call me Empowerment Master of Okpe State Constituency. More projects are coming and it will attract more business to Okpe Kingdom."
Commenting on  the preparedness of the PDP in the forthcoming elections, the Speaker said that; "Politics is about what you can offer. We have things on ground that if we campaign with them, we will  win. We have empowered people, touched lives and we have embarked on projects, especially roads construction. The people are happy with us. The mood clearly shows that the Empowerment Master will win the forthcoming General Elections in a landslide. For us PDP in the state, we are not afraid, victory is sure for PDP in Delta State".
The Returning Officer, Chief Owin Erirhomuru, declared Rt. Hon Oborevwori winner with 142 votes, saying of the 147 delegates in the Area, 142 were accredited.