DELTA FORMER SPEAKER, IGBUYA SUSPENDED FOR THREE MONTHS OVER ALLEGED FINANCIAL RECKLESSNESS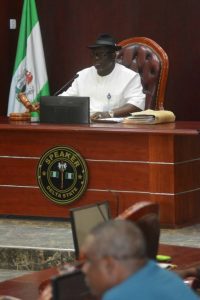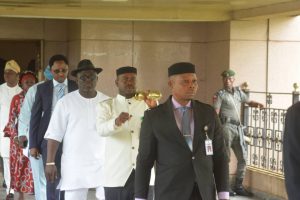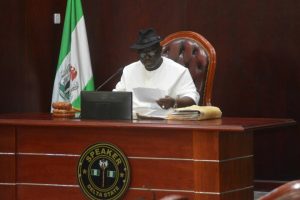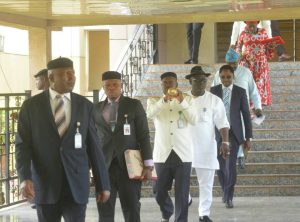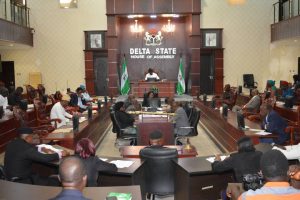 The Delta State House of Assembly has slammed three months suspension on the immediate past Speaker of the house, Rt. Hon. Monday Igbuya, over allegations of financial recklessness during his tenure as Speaker of the House.
The House also set up a three member ad hoc committee to review a preliminary  report of a committee earlier set up by the House to investigate the matter during its executive session on Tuesday, October 17, 2017 which was submitted on February 27, 2018.
The suspension according to the motion is to enable the ad hoc committee carry out its assignment without interference.
The development followed a motion brought under matters of urgent public importance by the Majority Leader, Hon. Tim Owhefere seconded by member representing Ughelli South, Hon. Rueben Izeze and unanimously adopted by the House at a plenary presided over by the Speaker, Rt. Hon. Sheriff Oborevwori.
"You will recall that in our executive session held on Tuesday October 17 2017, a committee was set up to look into issues relating to financial recklessness on the part of the immediate past Speaker and Member Representing Sapele State Constituency, Rt Hon Monday Igbuya. Mr Speaker, the committee did submit its preliminary report to the Executive Session on the 27th day of February 2018".
"Consequently, Mr Speaker, I move that
(1) this House set up another committee to review the preliminary report of the committee earlier set up and
(2) The member representing Sapele State Constituency, Rt Hon Monday Igbuya be suspended for a period of three months to enable the new committee carry out unfettered investigation devoid of any interference ", the motion read.
The ad hoc committee as announced by the Speaker, Rt. Hon. Sheriff Oborevwori is headed by the Deputy Majority Leader and member representing Bomadi Constituency, Hon. Oboro Preyor while Hon. Azuka Azaka, Ndokwa West and Hon. Rueben Izeze, Ughelli South Constituency are members.
The Speaker directed the committee to submit the report on  October 9, 2018.