Delta Assembly to Enact New Audit Law for State and Local Govts Auditors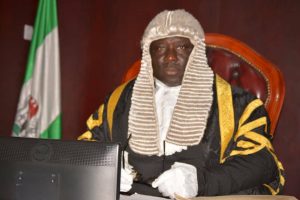 The Delta State House of Assembly is set to repeal and re-enact the Audit law of the state which is aimed at providing a better legal framework for the operations of the state and local governments Auditors.
The Chairman, House Committee on Public Accounts, Hon. Anthony Elekeokwuri while addressing stakeholders during a public hearing on the bill organized by the Committee in Asaba, said the ultimate goal of the proposed law is for an objective assessment of public resources by the Auditors.
Hon Elekeokwuri noted that public resources must be managed responsibly and effectively with a view to achieving desired results as well as maintaining accountability and integrity.
He disclosed that the bill which is to provide for the Audit of Public Accounts of the State Ministries, Department and Agencies, MDAs, and Local Government, was forwarded to the House by Governor Ifeanyi Okowa through a letter to the Speaker for legislative action.
The Lawmaker stated that the bill was committed to his led Committee on Public Accounts after its second reading following extensive debate on its merits by members who he said were unanimous in their arguments for a sound legal framework for better auditing system in the state.
Hon Elekeokwuri said the public hearing was not seek the inputs of relevant stakeholders as further measures to passing a bill that is not just elegant but in conformity with the times.
He recalled the content of the Financial Management of Delta State Government bill which is also before his committee, stressing that they were all intended to strengthen the management of public financial expenditures in the state.
The Auditor-General (State), Mr Goddey Amudo, who expressed happiness in the proposed law, however observed the need to effect some amendments in some session of the bill to conform with the provisions of the constitution of federal Republic of Nigeria.
He also proposed the establishment of an Audit Service Commission in the state to domesticate the federal act as it were in some states in the country, including Lagos and Ondo states.
For his part, the SEEFOR Project Director in the State, Mr Benson Ojoko, said the proposed law is in conformity with the realities of the time, stressing that the reform will strengthen the independence of the Auditors.
The public hearing held at the State House of Assembly Complex in Asaba was attended by other critical stakeholders including Council Chairmen and the offices of Accountant- General and Audtor- General Local Government.
Copied: Asaba Metro