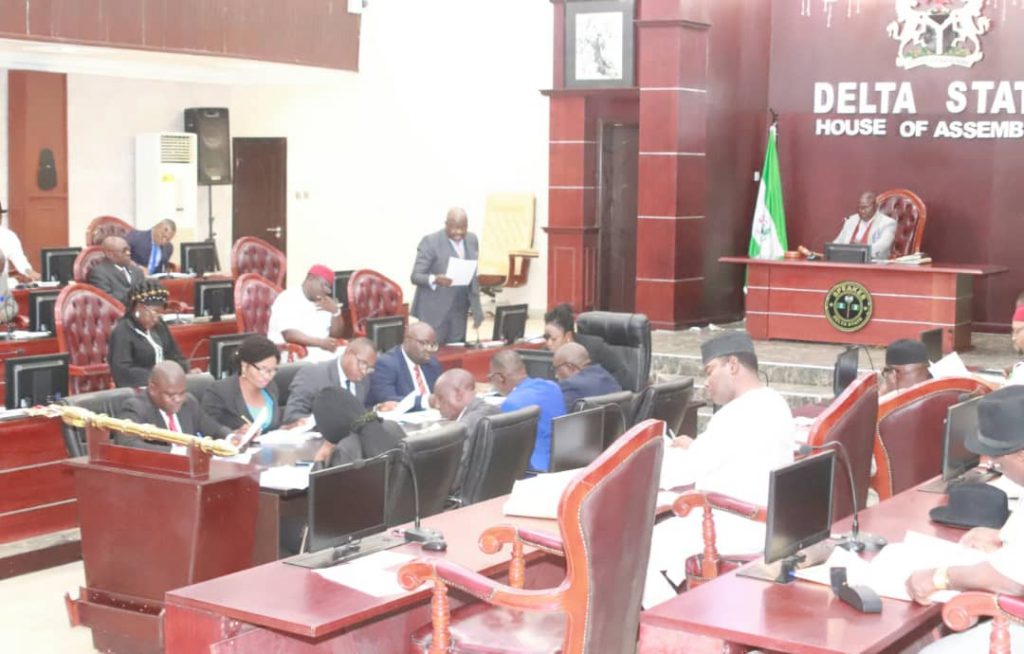 *** OBOREVWORI CHARGES CHAIRMEN, MEMBERS OF HOUSE COMMITTEES TO ARTICULATES STRATEGIES FOR LEGISLATIVE ENGAGEMENT WITH MINISTRIES, DEPARTMENTS, AGENCIES
*** PATANI BOSS NOMINATES AGORI JOHN EBIPUAKEBINA AS SLG
The State House of Assembly on Tuesday, October 8, 2019, resumed plenary after its one month recess with receipt of a letter from the State Governor, Senator Ifeanyi Okowa reconstituting the Board of the Direct Labour Agency (DLA).
The Speaker, Rt Hon Sheriff Oborevwori who presided over plenary read the names of the nominees as contained in the letter to the House from Governor Ifeanyi Okowa.
According to the letter, the nominees for appointment into the Board of the Direct Labour Agency, (DLA) are Honourable Precious Ajaino ,Director General,Engineer Blessing Enamuotor, Honourable Ndudi Osakunih-Izuegbu and Engineer Austin Bebeteidoh as Directors.
The Governor noted that the nomination was in line with the powers conferred on him by Section Five sub section one of the Direct State Direct Labour Agency law 2006.
Thereafter the Majority Leader, Honourable Tim Owhefere moved a motion for the House to receive the letter for further consideration and was seconded by the member representing Patani Constituency, Honourable Emmanuel Sinebe before being adopted.
The Speaker directed the nominees to submit thirty five copies of their curriculum vitae to the office of the Clerk on or before October 14,2019 and should appear for screening on Tuesday, October 15,2019.
Also at plenary, the Speaker read a letter from the Chairman of Patani Local Government Council, Honourable Peres Omoun nominating Mr Agori John Ebipuakebina as Secretary of the Council following the resignation of the former Secretary, Engineer Emmanuel Tebowei.
The Speaker also directed the nominee to submit thirty five copies of his curriculum vitae to the office of the Clerk on or before October 14,2019 and should appear for screening on October 15,2019.
Meanwhile, the Speaker has charged chairmen and members of the various House Committees to start articulating strategies for their legislative engagement with Ministries, Departments and Agencies of government as legislative activities will be heightened when the 2020 Appropriation bill is presented to the House by the Governor.
Rt Hon Oborevwori who stated this at plenary while welcoming members back from the recess said that the House was in the last quarter of legislative business for the year.
He urged members of the House to make efforts in ensuring boisterous plenary and committee engagements stressing that their legislative ability to carry out the task was not in doubt.
The Speaker commended members for their show of love and support to the leadership of the House and urged them to continue in that spirit of unity.
Rt.Hon Oborevwori used the opportunity to congratulate members for their victories at the Election Petition Tribunal.
Meanwhile,the House has deferred the consideration of the report on the Delta State Judiciary Fund Management Financial Autonomy bill  at a Committee  of the Whole to Wednesday next week.