HOUSE ADJOURNS TILL JULY 31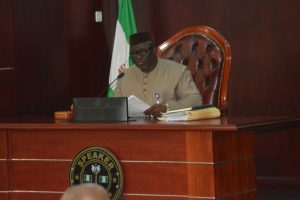 Delta State House of Assembly on Wednesday at its plenary received committee report on the Delta State Information and Communication Technology Agency and for other matters connected thereto.
The receipt followed a presentation by Hon. Eric Oharisi for the Joint Committees on Science, Technology and Information.
He said the bill was presented to the joint committee after a second reading on Wednesday, 14 March, 2018 for further legislative consideration with the Committee on Science and Technology as the dominant Committee.
Oharisi said that in view of the mandate, the joint committee met severally, scrutinised the bill clause by clause and proposed certain amendments.
Following the presentation, the Chief Whip, Hon. Pat Ajudua moved that the report by the joint committees be received for further consideration and was seconded by Hon. Emeka Nwaobi
The Speaker, Rt. Hon. Sheriff Oborevwori directed that the bill be considered in the Committee of Whole in three weeks time.
However, Report by the committee on Delta State Consumer Rights Bill, 2016 was deferred by three weeks while Delta State Freedom of Information bill, was deferred to Tuesday, 31 July, 2018.
Also deferred included, Report on the Delta State Audit Bill, 2018, Committee of the Whole Considerations for Delta State Customary Courts Bill, 2017 and Sickle Cell Centre Bill, 2017.
Meanwhile, Councillors from Ika North East Legislative Council were in Assembly premises to observe the day's plenary.
The House adjourned till  Tuesday 31, July 2018.