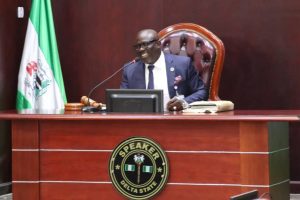 The State House of Assembly has passed a resolution approving the request of the State Governor, Senator Dr Ifeanyi Okowa for the extension of the tenure of the current board of the Delta State Oil Producing Areas Development Commission (DESOPADEC) by three months.
The Governor's request was contained in a letter sent to the House and read by the Speaker, Rt Hon Sheriff Oborevwori who presided over plenary on Wednesday.
In the letter,Governor Okowa recalled that he had earlier requested for the extension of the tenure of the Governing Board of DESOPADEC on August 24,2018 for six months which was granted through a resolution of the House.
The Governor noted that the resolution of the House for the six months extension expired on February 28,2019.
According to the letter,Governor Okowa requested the House to further extend the tenure of the current Board of DESOPADEC by three months in line with section seven sub section 2B of the DESOPADEC Amendment Law of 2018.
Thereafter the Majority Leader, Hon Tim Owhefere moved separate motions for the House to receive the letter for further consideration and approval of the governor's request.
The motions were seconded by Honourables Pat Ajudua and Eriathake Ibori and adopted through voice vote .