DELTA ASSEMBLY CALLS ON GOVERNOR OKOWA TO PREVAIL ON POLICE COMMISSIONER TO FISH OUT SUSPECTED HERDSMEN  WHO KILLED ANTHONY EDEGBARE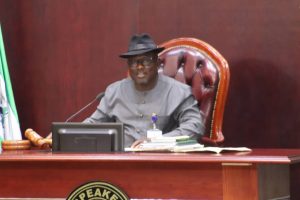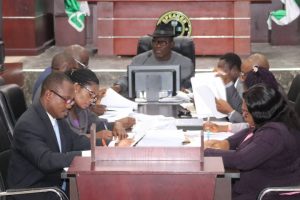 The State House of Assembly has passed a resolution calling on the State Governor, Senator Ifeanyi Okowa to direct the Commissioner of Police and other relevant security agencies to fish out the suspected Fulani herdsmen who killed one Mr Anthony Edjebare in Edjekota Ogor community in Ughelli North on Saturday November 24,2018 after attempting to rape his wife while returning from their farmland.
The motion moved under matters of urgent public importance by the Member representing  Ughelli North Constituency One, Hon. Samuel Mariere was seconded by Hon. Anthony Elekeokwuri and adopted.
Opening debate on the motion at plenary presided over by the Speaker, Rt. Hon. Sheriff Oborevwori, Hon. Mariere said the deceased had gone to farm with his wife on that fateful day and after the day's job he told the wife to go home while he was coming from behind.
He said some suspected Fulani herdsmen accosted the wife and was trying to molest her sexually when he heard his wife shouting and  ran towards the direction only to discover that some suspected Fulani herdsmen were trying to molest his wife sexually and in an attempt to rescue his wife he was shot four times and he died on the spot
Hon. Mariere said the late Mr Edjebare who was aged fifty five has eleven children stressing that the entire community had been thrown in fear and mourning hence the need to bring the culprits to book.
He expressed worry that a new farming season just began and the people who are predominantly farmers were scared of going to their farms for fear of being killed or raped.
Hon. Mariere said recently some women from Edjekota and Ewu communities protested for two days over the activities of herdsmen and it took the intervention of the state government and security agencies to calm the situation.  .
The lawmaker argued that Uvwheru community in Ughelli North was under siege of herdsmen and could spread their hold to neighbouring communities like Evwreni and others.
Speaking in support of the motion, Honorables Anthony Elekeokwuri, Alphonsus Ojo, Shola Daibo said it was very worrisome that herdsmen have taken over several communities with many lives lost, women raped and other maimed from the criminal activities of herdsmen without any commensurate action by security agencies to arrest the situation.
They noted that the Commissioner of Police should fish out the killers of Mr Anthony Edjebare adding that many communities in the state were under siege by Fulani herdsmen who carry out deadly attacks on innocent farmers  without any arrest.
The lawmakers argued that a Monarch in Delta North fell victim to suspected Fulani herdsmen as he was kidnapped and killed while several communities in Ethiope West and East have their own share of negative experiences from the criminal activities of Fulani herdsmen.
Other who spoke include Honourables Johnson Erijo,Reuben Izeze, Daniel Mayuku and Peter Uviejitobor argued that the criminal activities of Fulani herdsmen was a national embarrassment as the federal government had failed in securing lives and property as herdsmen  unleash terror on innocent citizens and go unpunished.
The lawmakers expressed concern that though it was a national security issue, the federal government had not been able to bring it to an end stressing that it was obvious that cows were more valued than human beings.
According to them, if the issues of marauding herdsmen are not curtailed, it could lead to drastic breakdown of law and order as the people may resort to self help.
They noted that there was bill on herdsmen before the House hence the need to revisit the bill as there was the need to properly regulate the activities of herdsmen because cattle rearing business was a private one and should not be used to threaten the lives of the people.
The motion was unanimously adopted when put to a voice vote by the Speaker, Rt. Hon Sheriff Oborevwori  .