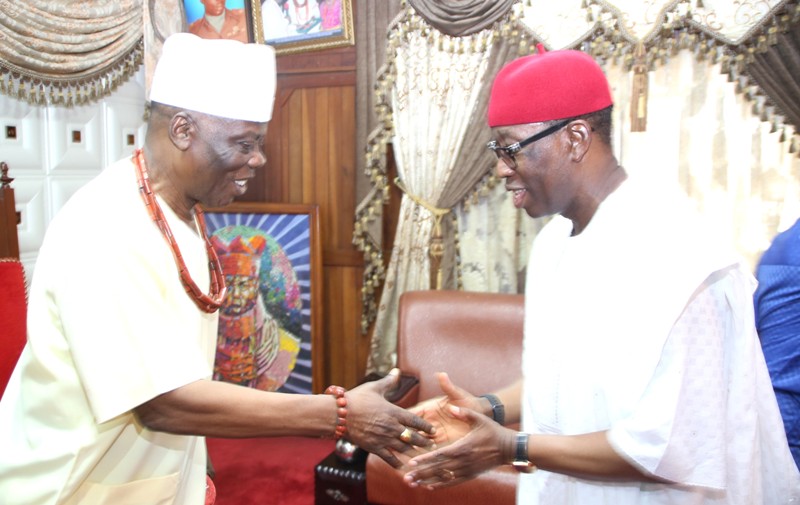 The Orodje of Okpe Kingdom, His Royal Majesty, Maj. Gen. Felix Mujakperuo (rtd), Orhue the 1st has called for the strengthening of vigilante groups in the state to complement community policing strategy of the Inspector General of Police.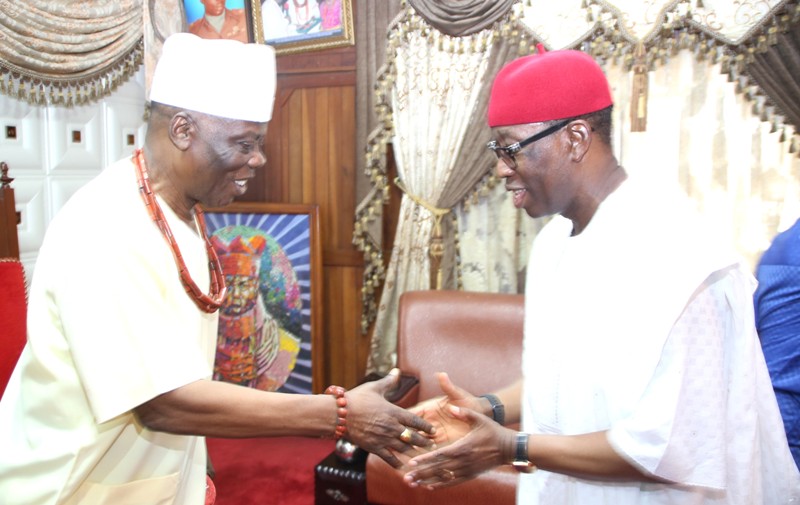 The Orodje stated this in his palace at Orerokpe, Okpe Local Government Area of Delta on Sunday when he recieved Governor Ifeanyi Okowa at the palace on a condolence visit.
The Monarch thanked the Governor Okowa for coming to identify with him and his people at this time and described the Governor as "prince of Okpe kingdom ".
He noted that Okpe people were happy with his administration hence their total support for him.
He called for proper coordination and communication between the vigilante groups in the State and security agencies in the fight against insecurity in the State.
"Your Excellency, it is important that we strengthen our vigilante groups by ensuring proper coordination and communication between vigilante groups in the state and security agencies in the fight against insecurity and social vices.
"A total reorganisation of vigilante groups to be coordinated by a retired Military or Police personnel will go a long way in complementing the efforts of security agencies in the fight against insecurity in the state, he said "adding "when vigilantes are properly organised and with proper communication, they can help in providing security in the State".
He further used the opportunity to appeal for either a federal or state established institution in the domain, saying such could also help in further development of the area.
"Orerokpe used to be headquarters of the Sobo division and later Western Urhobo division.
"As an ancient town and headquarters for so long, the town lacks Federal presence and if we could have a Federal or State higher institution here in Orerokpe it will change the economic fortunes of this place.
"I therefore appeal to both the Federal and state governments to consider siting a higher institution in Orerokpe to help develop the town further," the monarch added.
Earlier, Governor Okowa in his remark condoled with the monarch on the loss of his elder sister, Mama Maread Asamaigor, and commended the effort of traditional rulers in ensuring peace in the State.
The Governor who was accompanied by the Speaker of the Delta State House of Assembly, Rt Hon Sheriff Oborevwori and top government officials specially thanked the Orodje for his leadership qualities in ensuring a peaceful kingdom, saying "I believe that if everyone was like you, we would have a very peaceful State at all times ".
"We are actually beginning to see oneness in all of us, and its because of people like you who are in leadership positions ".
"I believe that when we have a peaceful State, more development will come ," the Governor said.
The Governor therefore condoled with the monarch on the death of his sister and prayed to God to comfort him, the entire family, and fill the gap created by her demise.