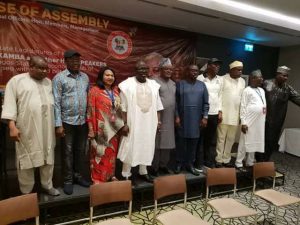 Conference of Speakers of State Legislatures of Nigeria held her second quarter general meeting in Lagos from the 3rd to 5th August, 2018.
Among other things, the Conference reviewed and adopted the Reports of the Technical Committee set up to facilitate an efficient and effective implementation of the Financial Autonomy Law for the state legislature and judiciary.
The Conference also deliberated on a wide range of topical national issues.
The Conference equally elected a new Executive Committee of the Conference at the meeting, and the Committee is headed by the Speaker, Lagos State House of Assembly, Rt Hon Mudashiru Ajayi Obasa.
Other members of the new Executive Committee are:
Rt. Hon. Abel Peter Diah, Taraba, Deputy Chairman
Rt. Hon. Sherriff Oborevwori, Delta, Treasurer
Rt. Hon. Mathew Kolawole, Kogi, Financial Secretary
Rt. Hon. Sanusi Garuba Rikiji, Zamfara, Vice Chairman, North-West
Rt. Hon.Kawuwa Shehu Damina, Bauchi, Vice Chairman, North East
Rt. Hon. Abdullahi Balerebe, Nasarawa, Vice Chairman, North Central
Rt. Hon. Oleyelogun Bamidele David, Ondo, Vice Chairman, South West
Rt. Hon. Rita Maduagwu, Anambra, Vice Chairman,  South East
Rt. Hon. Ikuinyi Owaji Ibani, Vice Chairman, South South
The Conference further resolved as follows:
1. The Conference calls on the Federal Government to direct relevant government agencies to ensure prompt implementation of the new constitutional provision granting financial autonomy to the Judiciary and state legislature in Nigeria;
2. The Conference calls on the State Houses of Assembly in Nigeria to ensure meaningful engagements with the executive arms in their respective States in order to have a seamless implementation of the new Law with a view to strengthening state legislatures and entrenching democracy in Nigeria;
3. The Conference calls on the National Assembly to expedite actions on the proposed constitution amendment to establish state police in Nigeria with a view to complementing the efforts of Nigeria Police and ultimately ensuring adequate security of the lives and properties of the citizenry;
4. The Conference calls on the political leaders in the country  to put national interest above any other interests and urge them to be more cautious in their utterances and actions lest we derail our hard earned democracy;
5. The Conference calls on Nigeria Police to be more professional and apolitical in the discharge of its constitutional responsibilities by desisting from invading and occupying legislative houses in the country;
6. The Conference commiserates with the people and government of Zamfara State and other States in Nigeria that have been gruesomely attacked by the bandit and insurgents in the country.
Rt Hon Ahmed Marafa Guni
Speaker, Niger State House of Assembly &
Chairman Communique Drafting Committe