ASSEMBLY CONFIRMS APPOINTMENT OF OBUH, EFENUDU
*** DELTA STATE AUDIT BILL PASSES SECOND READING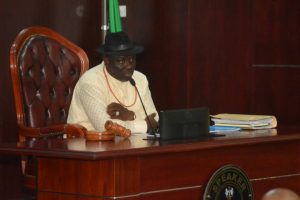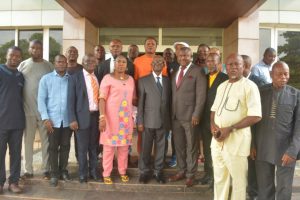 The State House of Assembly has screened and confirmed the two nominees for appointment as Chairman and Secretary of the Delta State Bureau of Pensions.
The nominees screened and confirmed at plenary presided over by the Speaker, Rt Hon Sheriff Oborevwori on Wednesday are; Sir Anthony Obuh as Chairman and Mr Lawson Efenudu as Secretary.
The screening followed a motion by the Majority Leader, Hon Tim Owhefere seconded by Hon Festus Okoh and adopted.
Speaker had directed that the nominees be brought into the chamber where the members representing their constituencies introduced them and solicited for their confirmation.
Rt Hon Oborevwori said Sir Anthony Obuh was well known to the House having been screened as a commissioner during the last administration while Mr Lawson Efenudu is a career civil servant known to the House.
They were asked to take a bow and go, leading to a subsequent motion by the Majority Leader, Hon Tim Owhefere for their confirmations and was seconded by Anthony Elekeokwuri and adopted.
Meantime, the Delta State Audit Bill passed the second reading on the floor of the House.
Opening debate on the Bill, the Majority Leader, Hon Tim Owhefere argued that the proposed law would enhance accountability in the expenditure of government funds in line with modern trend.
He said the Bill has twenty three sections and three schedules stressing that Section three dwelt on the appointment, processes and qualification for the Auditor General of the State who must have a minimum of fifteen years post qualification.
Hon Owhefere argued that Section four of the bill lay emphasis that once an Auditor General is appointed his condition cannot be altered to his disadvantage which makes the office independent.
The Majority Leader who took time to explain the other merits of the bill as contained in the various sections of the bill said the proposed law will drive accountability as there was penalties for offenses committed by auditors.
Also speaking in support of the Bill were Hon Reuben Izeze, Oboro Preyor, Pat Ajudua as well as Hon Samuel Mariere and Anthony Elekeokwuri.
They said that the Bill was necessary as it would ensure smooth conduct of government business in terms of auditing and block loopholes in the finances of the state.
The lawmakers maintained that the Bill would enhance good governance, transparency and accountability adding that section sixteen subjects the auditors to external auditors .
According to them, the bill was a right step to strengthen institutions to curb corruption in the system.
The Bill has been committed to the House Committee on Public Accounts and is expected to submit it's report in two weeks.