ASSEMBLY ADOPTS REPORT ON DELTA STATE FISCAL STRATEGY PAPER 2019 TO 2021
OBOREVWORI FELICITATES WITH ATIKU, OKOWA, MEMBERS ON PDP PRIMARIES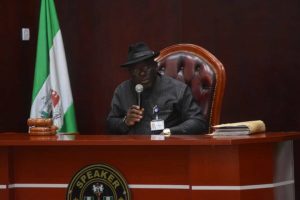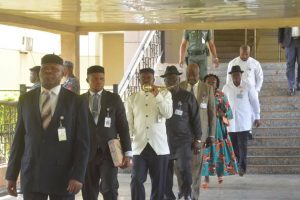 The State House of Assembly has adopted the report of the House Committee on Finance and Appropriations on the Delta State Fiscal Strategy Paper FSP 2019 to 2021.
The adoption of the report at the resumption of  plenary of the House followed the presentation of the Committee's report by the Vice Chairman,
Hon. Emeka Nwaobi.
Presenting the report, Hon. Nwaobi said the Delta Fiscal Strategy Paper (FSP) 2019 to 2021 was sent to the House through a letter from the State Governor,Senator Ifeanyi Okowa and read on the floor of the House on Wednesday 26th September 2018.
He said the Committee critically examined and analyzed the content of the paper and observed that the Fiscal Strategy Paper was prepared in compliance with the Fiscal Responsibility law with a view to ensuring appropriate financial management and allocation of the state's resources in accordance with international best practices.
The lawmaker said the paper highlights the state's Economic and Fiscal Update, Fiscal Framework and policy thrust of government upon which the state 2019 budget will be prepared  .
Hon. Nwaobi explained that the Committee took a critical look of the macroeconomic framework applied, the projections made and computations contained adding that the Committee was satisfied with the content and concluded that it was harmless.
While emphasising that Fiscal Strategy  Paper was a veritable instrument for the enhancement of the socio economic development of the state Hon. Nwaobi said the Committee recommended that the approval sought should be granted by the House to enable the state government adopt the paper as a framework for the preparation of the 2019 budget  .
The Majority Leader, Hon.Tim Owhefere moved for the adoption of the report and was seconded by the member representing Isoko South One Constituency, Hon.Orezi Esievo.
Meanwhile, the Speaker, Honourable Sheriff Oborevwori has congratulated former Vice President, Alhaji Atiku Abubakar for his emergence   as the PDP presidential flag bearer and Governor Ifeanyi Okowa for the overwhelming affirmation of his candidacy as the PDP flag bearer.
He commended the governor for conducting the freest  and most peaceful and transparent presidential primaries in the history of Nigeria electioneering process.
The Speaker congratulated members of the House who successfully secured the PDP tickets at the various levels and also commended members who could not secure the party's tickets for their spirit of sportsmanship adding that the collective understanding from the outcome of the primaries had shown that the PDP was a great family.
Hon. Oborevwori thanked members for their unflinching support to the leadership of the House and solicited for more understanding urging members not to despair as the House was on its last session  of the sixth Assembly.
The Speaker said as a team their names would be written in gold as members of the most vibrant House of Assembly in the country.
He appealed to members to put in their best to conclude actions on all outstanding bills and other legislative activities before the end of the session.