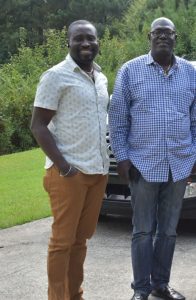 I join millions of Deltans and PDP faithfuls to wish Olorogun Barr Kingsley Esiso, Delta State Chairman of the Peoples Democratic Party, a happy birthday and many happy returns. This birthday is even mae more special as Chief Uche Secondus and National Executive Council of the PDP visit Delta State.
Barr Esiso has been an exemplary and forthright leader. His style of leadership has given room to the younger generation to partake at the table and take the driving seat in the state. He has been able to blend the elders and youths into one leadership decision making process; and yours truly it is working wonders.
The just concluded LG elections and the vibrancy of the PDP in the state are testaments to his good leadership. My prayer is that God will continually bless you and protect yo so that through your leadership we will continue to experience tremendous success in the state.
Happy Birthday Our Leader. I wish you long life, prosperity and good fortune. Amen.
Comrade Benedith Adhuze