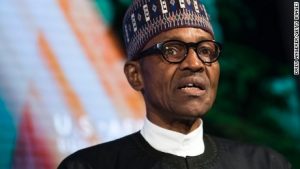 BY EJOVI ADASEN
On March 25, 2018, President Muhammadu Buhari while speaking during the Commonwealth heads of Government meeting (CHOGM) told the Government heads of the 53 member Nations across all continents with a combined population of 2.3 billion people almost a third of the world's population that "About the economy, we have a very young population, our population is estimated conservatively to be about 180 million. This is a very conservative one". "More than 60 percent of the population is below 30, a lot of them haven not been to school and they are claiming that Nigeria is an oil producing country therefore they should sit and do nothing, and get housing, healthcare education for free".
This was what Nigeria's supposedly chief marketer had to tell 2.3 billion people about his Nation's youths.  This issue as expected has stirred up a bitter controversy bothering on the negative perception President Buhari gave to the international community about the so-called people whom his poor economic policies have impoverished since his swearing in on May 29, 2015. Owing to the argument of the numbers and set of youths the President was referring to when he made his disgraceful assertion before the world, there was need for me to  take out time to understand Mr President's claim please permit me to share same.
According to Mr President, Nigeria has an estimated population of 180 million people of which 60%, that is 108 million persons are below 30 years. But According to the United Nations, a body which Nigeria is signatory to, the youths are defined as those persons between the ages of 15-24 years. However, the U.N says it can be based for instance on the African youth charter where " youth" means "every person between the ages of 15-35 years"  Mr. Presidents words  "a lot of youths" unfortunately does not  give  any statistical figure that agrees with the internationally acceptable definition of youths, of these category of persons however, the word a lot of according to the Oxford English dictionary means "a large number or amount; a great deal."
Mr. President's assertion  on the Nigerian youths actually lack any clear-cut meaning as his presumed youth definition is wrong just like his mathematical votes and reward analysis where he confidently affirmed that 97% +5% = 100%. Let us assume the age of Mr. Ibrahim Dasuki Jalo-Waziri, the APC national youth Leader age of 47 years as the current upper bar of a youth age bearing in mind that APC is actually a change government and may have changed the internationally accepted youth age, and even with this, it is impossible to comprehend Mr President's idle beer parlour talk. We can therefore say for the fact that he was referring to all Nigerian youths.
In November 2016, during a conversation with the Queen of England, the then British Prime Minister David Cameron said that; "We have got some leaders of some fantastically corrupt countries coming to Britain… Nigeria and Afghanistan, possibly the two most corrupt countries in the world." We all know Mr Cameron used those words on Nigeria because that was what Mr President said of us before the international media, we all know that people would call your Dog the name you call it. Mr. President constantly de-markets Nigeria and it's citizens.
Nigerian youths are mostly strong willed and energetic. Many have against the difficult economic clime due to Buhari's lazy and poorly thought out policies have successfully built and sustained their businesses, others have either been kicked out of their paid employment or have been unable to get employed due to the obvious reasons of Mr President's ineptitude, it is therefore a great deservice that a man who rode on popular votes is now accusing every youth of being lazy knowing that Mr President is a confused and incompetent old man bereft of ideas and solution to turn both the human and material resources available in this virgin land into wealth and endless opportunities.
It is a fact that Nigerian youths are doing amazingly great here and abroad and they can even do better here with improved basic infrastructure  that Mr President promised and has failed to provide. Sadly, the President's unbridled tongue has only deepened the stigma on Nigerians both home and abroad. I therefore wish to appeal to all those, including the youths whom the President has at one time or the other blamed for his gross ineptitude to take this recent international humiliation of the Nigerian youths as a challenge and therefore to do the needful by getting their permanent voters card to collectively send the aged President back to Daura in 2019. Yes, let us use our PVC next year to teach President Buhari a bitter lesson.
MR EJOVI ADASEN IS A SPECIAL ASSISTANT TO GOVERNOR OKOWA ON PROJECTS MONITORING