2019: Delta speaker urges Delta Central to vote for Okowa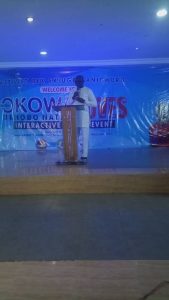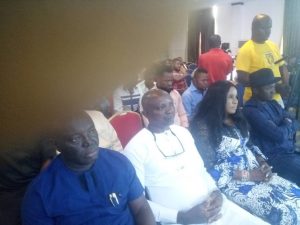 As the nation gradually moves towards the 2019 general elections, the Speaker, Delta State House of Assembly, Rt Hon Sheriff Oborevwori, has urged the people of Delta Central to massively vote for Governor Ifeanyi Okowa in the 2019 election.
The Speaker who spoke in  Warri on Wednesday,  November 14, 2018  at an Urhobo interactive public event tagged "Okowa Loves Urhobo Nation," said governor Okowa, from inception of his political career, has demonstrated his love for people from different parts of the state in such a way that no one can say that he is tribalistic and discriminatory to any ethnic group in the state in particular and the country at large.
Rt Hon Oborevwori who was represented by his Chief of Staff, Hon Francis Okan, said the state governor has shown beyond all reasonable doubts that he is a detribalized governor, adding that there is no pretence about the love governor Okowa has for the Urhobo Nation.
The Speaker, therefore urged the Urhobo nation to reciprocate the uncommon love the Speaker has for them, noting that Okowa has done a lot for the people of Delta Central to warrant their support.
"He has been very supportive to us in Delta Central Senatorial District and let us also show him that love. For us in this District, we should not even consider contesting against him.
"The people of Delta Central Senatorial District have done their own part. We have spent ten years in power, eight years of Chief James Ibori and two years of the late Chief Felix Ibru .Delta South has done their eight years, so it is the turn of Delta North, the people of Delta North should have their second tenure to complete their eight years before it will go back to Delta Central again in 2023. Okowa really love Urhobo Nation," Rt Hon Oborevwori said.
Rt. Hon. Oborevwore said that in the interest of fairness and equity, it was proper that Delta North produces the next governor in the person of Governor Okowa, stressing that governor Okowa, who has actually done very well for the Urhobo Nation.
"The Governor has performed in Delta Central and the state as a whole; he has his foot prints in all parts of Delta Central  Senatorial District as well as other parts of the state. He has done very well.
"We all can see that in Delta state, there is peace, people are happy; he has handled the issue of ethnic crises and attacks on oil installations. The people are at peace with him, he has commissioned projects all over the state  and before the end of this year, he would inaugurate more. Our people must continue to be at peace with Governor Okowa who loves us so much.
"Let us again at this large gathering today reassure Delta North and Governor Okowa that we in Delta Central Senatorial District will not forsake them in 2019. If we do not support Delta North in 2019, how can we tell them to support us in 2023?
"If you check the budget since the inception of this administration, you will notice the even distribution of projects to all Senatorial Districts and Local Governments. This can also be said of appointments made so far by the Governor. Governor Okowa has a large heart; very accommodating and his second name is Charity!
"To me, it seems that the Governor has even favoured Delta Central more in a way that many never anticipated. It is a proven and an amazing fact that we Urhobo people can say that Governor Okowa has Urhobo blood flowing in his veins. The love, respect and manner in which he takes our matter as his own is deeply touching.
"That is why the Urhobos should not allow themselves to be deceived with Urhobo Agenda because in Okowa the Urhobo upliftment and prosperity Agenda is being fulfilled. As the Speaker, I work closely with the Governor and can tell you that no person at this time can serve and help us better than Governor Okowa," Rt Hon Oborevwori said.
He commended the organizers of the programme saying that the interactive session came at the right time.
"I want to encourage you to go from door to door to let our people know that Governor Okowa is the real deal and we must vote massively for him," he added.