Meet Stanley Edokpolo, author and publisher.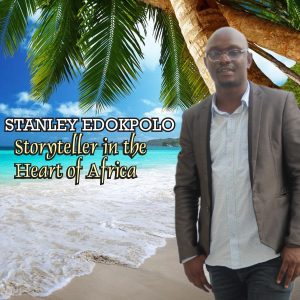 Stanley Edokpolo has authored several books of different genres. His books are presently on sale on Amazon Kindle and other marketplaces. He is the author of these novels:
White Christmas is Forever
Ibinabo wakes up to the reality that you can't eat your cake and have it. She had three assignments: to save Mom and Dad's marriage, beat Festus and become the best student in her class, and of course regain her Christmas groove.
This prodigy knew that even in her wildest dream these were insurmountable feats, but she was determined to make it happen against all odds.
Queen of Umuofia-agu (The True Nigerian Child)
When Adanne, the great dancer of Umuofia-agu, becomes pregnant, the secret resolve becomes abortion. But she dreams that the child is going to be great, perhaps a President of Nigeria.
When the child is born unto her, a son is not given, but a daughter. Can a girl child grow to become the President of Nigeria?
In the Queen of Umuofia-agu Funmilaya, Tessy, Jane and Christian tell us how their friend, Azima, rose from suffering and survival to success and significance.
Silent Night, Unholy Night
Reality always dawn on people who dream. Sometimes it is pleasant, at other times, too bad, it is disastrous. Ibanibo wakes to make her dream of excellence and happy family come true. She and her parents, Jac k and Ireti, prepare earnestly for the arrival of their kids.
In this continuation of White Christmas is Forever, Ibinabo is confronted with several obstacles on her way to great achievement. The most complicated of them all is love. Love, a complicated obstacle on the way to Excellence? This is what teenage girl Ibinabo is yet to find out. For Irene, Ireti's Doctor, she already has.
For Love of Country
When the poor girl from Umuofia-agu with an obsessive love for country becomes the president held in captivity with chains of corruption & ignorance by powerful men, there is bound to be war. But she finds out that the worst enemy of her beloved country is her godfather an invisible force with power stretching to the ends of the earth. What she does, is a matter of life and death.
This pulsating multiple-narrator thriller is not lacking in romance as the women of the story have to battle with lost loves and emotions on their way to achieving their wildest dreams.
The making of the goddess Azima continues…
Hunger Republic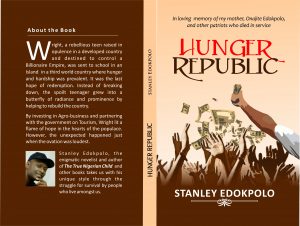 You can purchase these books by contacting us on hunger.republic@gmail.com
visit his facebook page for updates on his thoughts and events- Penman Stanley Edokpolo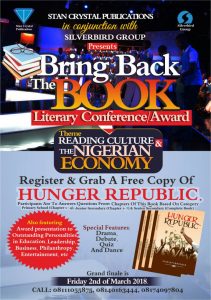 Plan to attend the 6th Edition of Bring Back the Book conference/award ceremony.
JOIN THIS READING REVOLUTION
When people don't read they do not make progress. They act in an uncivilized manner; thrive on ignorance; lack the reasoning ability to make the right judgment and decision. These are a little droplets compared to the problems that arise from this syndrome that is as destabilizing as illiteracy. A notable truism states: "there is no difference between a man who cannot read and a man who doesn't read".
Stan Crystal Publications, a growing publishing firm deems it necessary to partner with other organizations like Silverbird Group, and other well meaning bodies, to create a reading revolution that will benefit the nation for many years to come.
We intend to create an improved reading culture by organizing this campaign we have tagged Bring Back the Book Literary Campaign. This we will continue to do until every family is stirred up to see the benefits of making reading a part of their daily activities and thereby reaping from the dividend of a reading nation.
AIMS/OBJECTIVES
The objectives of organizing a programme of this nature are as follows:
I.)To create an improved reading culture.
ii.) To create an atmosphere where causes of poor reading routines can be discussed.
iii.) To honour the contribution of veteran writers like Elechi Amadi to the educational system and the society at large.
iv.) To discuss prevalent crises confronting the educational system in the Niger Delta.
v.) To stimulate public awareness about the deterrent reading culture and how to proffer solution to this phenomenon.
vi.) To encourage a viable partnership between corporate bodies and government towards the building of a great nation.
BACKGROUND OF THE CAMPAIGN
The Bring Back the Book Literary Campaign is a support of President Goodluck Jonathan's Initiative to transform this nation's educational and economic system. We believe that if people come out to support this initiative we will begin to witness a new era of advancement in the nation.
In his words during the Lagos launch of the initiative, President Goodluck Jonathan said, "The Bring Back the Book campaign is a national survival and progressive imperative that must transcend governments. I want you my friends on facebook to join me and other friends and fellow citizens in our beloved country to drive this campaign for in it lies our freedom! We have no choice but to read and encourage ourselves to read and read and read again."
Answering the clarion call of our leader, we flagged off this reading campaign on the 19th of November, 2011. Students from about 20 schools in Port Harcourt metropolis read and summarized, The True Nigerian Child by Stanley Edokpolo. The winners were awarded with cash prizes.
Taking a leaf from that wonderful experience, we organized the Bring Back the Book Rally/Contest for primary and secondary schools in Port Harcourt early this year.
On the 8th of March, 2012, children, teachers and parents marched from Garrison Junction to the Silverbird Galleria singing "Bring Back the Book". It was indeed a spiritual experience as people were awaken to the fact that we have allowed a lot of distractions to stop us from developing our mental ability via studying in our leisure.
On the 10th March 2012, the contest was graced by the presence of the veteran writer, Chief Captain Elechi Amadi. He was appreciative of the endeavour and encouraged those present to keep the fire burning.
It is on this premise that we are not resting on our oars but striding like a colossus to reach the Niger Delta region with this noble project whose prize we have tagged, ELECHI AMADI LITERARY PRIZE in honour of a legendary son who has advanced the cause of reading and literature the world over.
ELECHI AMADI LITERARY PRIZE
This project has been thus named with the express permission of the veteran writer to inspire the up and coming generation to emulate and exceed the feats of our fathers in innovative and creative endeavour.
This phase of the project is open to all, but particularly targeted at the higher institutions in the Niger Delta region. We want students from every part of this region to be part of this reading revolution by rising up and telling themselves it's high time we read like never before.
The problem of examination malpractice has practically crippled our reading culture. But in this segment of the programme people will be encouraged to desist from that killer syndrome and move on by imbibing the statement of Abraham Lincoln: "it is better to fail than to cheat." However a reading man will succeed.
Introducing the Read Ambassador Distinguished Award (READA) in the 6th Edition of our campaign
While the Elechi Amadi Award is usually held at the end of the year, we are introducing the READA to GET MANY SUCCESSFUL PEOPLE INVOLVED IN THE READING CAMPAIGN. We want responsible, successful and influential leaders to become role models and preachers of a vibrant reading culture.
6th LITERARY CONFERENCE/READA AWARD CEREMONY
Theme: READING CULTURE & THE NIGERIAN ECONOMY
The schedule for the 6th edition of the Bring Back the Book Reading Campaign is as follows
Date: Friday, 2nd of March, 2018.
Venue: Ministry of Justice, Port Harcourt
Time: 10 am
the preliminaries for the schools contest will take place from 23rd – 26th at various designated centers.
Pupils and students have been reading Hunger Republic, the 19th book of Stanley Edokpolo, the initiator of the Bring Back the Book reading Campaign.
SPECIAL FEATURES
In this edition, Stan Crystal will be unveiling a new study programme for teens, youths and Adult captioned Journey To The Top online study community. Its first handbook titled "Pathway to Success" will be launched.
Make plans to attend. you can reach us by mail hunger.republic@gmail.com or call Mr Longjohn Ogunka (Event Manager) on 08033289082, Mr Lucky Aaron (Rivers State Programme Coordinator) on 07039518144, Miss Sonia Tolofari (Secretary) on 08189175743.
BE PART OF THIS READING REVOLUTION